O'Shea backs 'winners' O'Neill and Keane to get squad going for Euros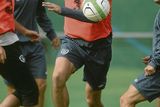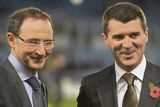 JOHN O'SHEA should be, according to Alex Ferguson, quaking in his boots at the thought of a Tuesday morning breakfast date with Roy Keane in the house.
But he's not. The opposite, by the looks of things.
Picked out by Ferguson alongside Darren Fletcher as the two players who took the brunt of Keane's verbal boot-camp during his infamous MUFC homily, O'Shea has, along with David Meyler, worked with both O'Neill and Keane during his career.
His thoughts are valuable, then, in the hours before O'Neill takes a bow in Dublin today and serve to calm the sometimes mad speculation about the potential for anarchy apparently lurking within the new management team.
Once O'Shea heard the speculation last week, everything fell into place.
"I had spoken a couple of times to Martin who said he had spoken to Roy during the TV work they had done together in the past so I knew the type of ideas they both had and that they enjoyed their conversations," he said.
HUNGER
"I knew that was never going to be as big an issue as people have made out. I thought they had got on well together in the past and with Martin speaking to Roy it could happen.
"It can only be good because of the type of personalities they are in terms of winning mentality, drive, hunger and motivation – all those things are needed for us to get going again for qualifying for tournaments again and giving a boost back to the fans as well," claimed O'Shea. "I know both of them very well and if they have spoken to each other beforehand and decided they want to go forward together it can only be good really.
"I know the two types of people they are. They are winners and motivational and it really is going to be exciting and everybody should be looking forward to it, the supporters, the players in the squad and the media. I think you will see the public in Ireland will really get behind it.
"There is a bit of time to go before our first competitive game because we are not going to the World Cup and the next qualification games are not until September, but that means there is time to digest it all.
"Roy is arguably Ireland's best ever player so having him in the dressing room for the younger lads and older lads to look up to and thinking that he is on our side wanting us to win is great.
"And we have Martin's experience. He will be the boss, he is the main man and we will be guided by him and the team he has in place, and from knowing the two men and having them on our side it is going to be brilliant."
INSIGHT
O'Shea watched while O'Neill parted company with Sunderland and it gave him an intimate insight into how it all went wrong. He chooses his words carefully.
"I enjoyed working with Martin. He would be fairly confident he would have kept us up as well and that was one of things that happens in football and he has a chance now," he said. "As he said on the telly, a chance to manage the country does not pop round that often so he will be looking forward to that and energised again and hopefully that will be transmitted to the players.
"He looked lifted on the TV. He would have approached Roy and spoken to him and knowing the team he has – and I don't know exactly who he is bringing over – but knowing the characters they are, they will have talked together and that will have lifted him.
"As well as the knowledge and characters they are, they are two very funny guys as well and they have that determination to succeed and if they can bring that into the squad we will be going in the right direction."