Is Martin O'Neill the man to lead Republic of Ireland to Russia?
Spotlight is on O'Neill after handy WC draw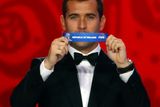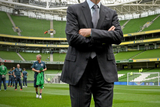 Martin O'Neill has every reason to look at Ireland's World Cup draw and decide that he fancies another two years but the big question now is whether he is the right man for the job.
For the last few weeks, he's been telling us without any doubt that he is and would be "delighted" to go again. After drawing a group full of mediocrity, he has even more reason to stay.
He snapped at Tony O'Donoghue on the live feed from St. Petersburg when the RTE man repeated a question about his feelings towards the job he is doing and whether he wants to continue.
It's hard to know why he was so tetchy. He's had an easy ride. At this stage in their respective group journeys, both Brian Kerr and Steve Staunton were under ferocious pressure, both internally and externally.
Cliques within the Ireland squad made the job very hard for Kerr and novice gaffer Staunton was labouring under the tag of "world class management team" given to him by FAI CEO John Delaney.
Neither of them were given the grace O'Neill has been enjoying and let's be honest here, this is one of the most limp-wristed attempts at qualification we've seen in some time.
It should be underlined that three teams will have a chance of making the finals from Ireland's current group and as things stand, Ireland have virtually no chance of being one of them.
So the truth is, the FAI is in no position to view the next few years as anything but a struggle and with O'Neill already in place, the easy route would be sign up for another two years.
The reality is, however, that the FAI has been living beyond its means when it comes to hiring a senior manager and as League of Ireland clubs have proved so often, that's not a good strategy.
It would be a costly exercise to find someone else unless Denis O'Brien's largesse is to continue undiluted for the foreseeable future and even then, who would want the job for any other reason than the big paycheck? Do we really need a marquee name anyway? Michael O'Neill, Gordon Strachan and Chris Coleman have proved what is possible with a bit of local knowledge. They don't have O'Neill's credentials and neither the SFA or the WFA needed help to pay their wages.
More importantly, would a new man make any difference?
Irish football fans at the moment are roughly divided between those who think that there is enough players out there to produce a decent qualifying effort against anything but the very top teams and those who think that the end is nigh; that the game in Ireland is in a state of crisis.
The truth is somewhere in between. Irish football IS in crisis but a glance at teams like Wales, Scotland, Northern Ireland and Iceland tell us qualification is still realistic even if we are not producing the required standard of young footballer to attract the attention of big clubs in England which used to queue up for our best.
There is nothing in Wales, Serbia, Austria, Moldova and Georgia to scare us. In fact there is an argument to be made that this time, Ireland got the easy group and Northern Ireland got the hard one, the reverse of the circumstances which leave Michael O'Neill poised to qualify for Euro 2016.
O'Neill's time as Ireland manager with Roy Keane as his sidekick has been singularly uninspiring, a big surprise for those of us who viewed the two men at the start of their work and believed that this was a potent mix which could really deliver.
Instead of a rip-roaring ride to the finals in France, we've had a colourless, shapeless mess with very little football of the quality which might suggest that O'Neill is making progress. If anything, Ireland has gone backwards since Giovanni Trapattoni. Would we get more of the same hesitation and dithering from O'Neill? Nobody wants that.
The overriding imperative here for the FAI is the generation of cash flow and nothing in Ireland's World Cup group will help that.
There were empty seats at the Aviva in June for the crunch game against Scotland and even in an improving economy, there is no reason to think that Wales, Serbia or Austria will be played in front of full houses. In fact, entirely the opposite.
Only results will change that and so far, O'Neill simply hasn't delivered.
There is nothing cut and dried about his position. Events could yet overtake him.
There is still a very real potential for another Aviva debacle against Germany and while Trapattoni had enough in the bank from the Euro 2012 qualification to survive that awful hammering three years ago. O'Neill does not.