Ireland coach Joe Schmidt plays role in epilepsy TV ad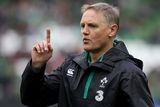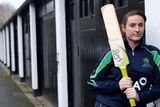 Ireland rugby coach Joe Schmidt wants everyone to know how to help someone having an epileptic seizure.
Epilepsy Ireland has launched a new ad that features the New Zealander.
"It is so encouraging to see so many people with epilepsy of all ages from right across the country participating in such a range of different sports," he said.
"Everyone's epilepsy is different, but as long as it's safe for the individual to take part and they let their coaches and team mates know how best to help them in the event of a seizure, then they should enjoy their chosen sport and live life to the full.
"That's why I am in full support of the new Epilepsy Ireland television campaign and hope that as many people as possible can be seizure-aware by remembering the acronym TEAM when responding to a convulsive seizure.
"T means take care to protect the person, E means ensure you stay with the person, A means allow the seizure to run its course and M means move the person on to their side when the seizure is over if needed."
The ad will run until February 9, which is International Epilepsy Day.
mild
Mr Schmidt has previously spoken about his son Luke's (11) diagnosis with epilepsy when he was four.
Epilepsy Ireland has pointed out that people with the condition can enjoy participating in sporting activities as long as their neurologist agrees.
Emma Beamish (32), a teacher living in Donnybrook, played cricket at the highest level for Ireland until 2012.
She was diagnosed with epilepsy when she was 14.
"I am very fortunate. I have mild epilepsy. My last seizure was about seven years ago," said Emma, who is also a hockey and cricket coach.
"There is no reason that epilepsy should stop you from doing anything you want."
She said there are huge benefits to be had from exercising.
hnews@herald.ie