Ireland can head home with honour
France 2 - Republic of Ireland 1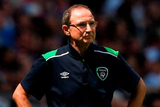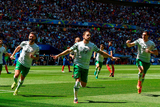 Salute them. All of them. They allowed us to dream of astonishing things for an hour but in the end, their legs couldn't take it.
The three-day turnaround was just too much to bear and while France wound down from their group  qualification and enjoyed some rest and recuperation, Ireland's players were still counting their bruises.
Raise a glass or two to Martin O'Neill and Roy Keane for creating a team which believed in themselves and turned doubts into a wonderful, rollicking hour in the Stade de Lyons.
But don't bet any money on this French team to do much more in this tournament. They have a defence made from Swiss cheese and it will fold again before this is all over.
They were there for the taking, there is no doubt about that. Ireland had chances to add to Robbie Brady's second- minute penalty in the first half and again after the break and had that happened, it is hard to see how France could have found a way back.
Devastating
The route Didier Deschamps eventually took was to target Stephen Ward with Kingsley Coman's twinkling feet and in a few devastating moments, the tactic won the game.
Space opened up in the middle and into it stepped Antoine Griezmann, a small man with a big presence.
You could point to Shane Duffy and Richard Keogh for the first goal and wonder why they were so close together and not where they needed to be.
You could ask another question about James McCarthy, who didn't track Griezmann's run.
You could even wonder what might have been if John O'Shea had been there to marshal the defence. But all of those questions are moot now.
Even then, when France owned the ball and managed to string together some accurate passes, an achievement given their profligacy before the break, every time the ball went into their box you could feel the massed ranks of home fans suck in their collective breath.
The disaster for O'Neill and Ireland came when Shane Duffy took the legs from Payet on the edge of the penalty area with the scoreline at 2-1 following Griezmann's morale- battering second goal.
He had to do it and he saw red because of it but your heart went out to the big man, who will feel low for a long time after this.
But he shouldn't. In the mixed zone after the game, O'Shea turned aside questions about his own international future, clearly unwilling to say anything that might overshadow the group. But if he does decide to go, he will leave the centre of Ireland's defence in good hands.
Richard Keogh had an immense game and right at the death, when a goal would have dragged the French into extra-time, he was driving forward, nutmegging midfielders, so desperate to stay in the tournament.
Others will go, there's no doubt about that, even if the immediate response to all such questions was the same as O'Shea's.
But Shay Given's lingering farewell to the fans told it's own story. They will never see him again standing between the posts for Ireland.
Robbie Keane hugged his old friend in the far corner of the stadium and took the applause from the 7,500 fans who had managed, despite UEFA's peculiar ticketing arrangements, to get into the ground.
It looked like the end of something as well but the time for that will come later because this was all about a group of players who came together in a truly wonderful way and can look down the road now with optimism, once the hurt of elimination has dissipated.
The future belongs to lads like Robbie Brady, who stepped up with ice in his veins to smash home the spot-kick which resulted from Paul Pogba's agricultural body check on Shane Long, with many supporters still finding their seats.
It belongs to Jeff Hendrick, who was brilliant again for an hour despite taking some serious punishment and must now be high on the list of summer transfer targets for several Premier League clubs.
And it belongs to an old head on young shoulders,   Seamus Coleman, who stepped up to meet the demands and responsibility which captaincy brings.
All of the players now know they can compete at this level and they can take great comfort from the fact that for an hour, they applied such pressure to France on their home turf that the crowd stopped singing and left the stage open for Ireland's marvellous fans to open their lungs.
It was almost a great day, almost the greatest day and they deserve all the credit in the world for what they have done in France.
Raise a glass to them. We should be proud of them all.