'I'm just like Sexton,' says Minister Noonan over his black eye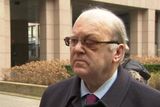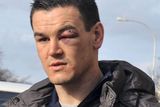 HE'S a heavyweight of Irish politics and a minister who is well able to punch above his weight.
But it was Michael Noonan who was sporting a proper shiner yesterday.
The Finance Minister sustained the injury during minor surgery last week, his officials said.
He joked that he had experienced the same fate as Ireland fly-half Jonny Sexton, who suffered a black eye during his sensational performance against France on Saturday.
"As you see, I'm imitating Jonny Sexton," Mr Noonan joked.
A department spokeswoman said that the minister's black eye was caused by "minor surgery on Friday".
"As far as we're aware, it was minor surgery to remove a stye (or something similar) and he is perfectly healthy," she said.
Mr Noonan was in Brussels for serious business yesterday where finance ministers met to discuss the ongoing Greek
negotiations.
noconnor@herald.ie