'I was more or less told it's not going to happen'
Fenton's career kick-starts after putting it up to Farrell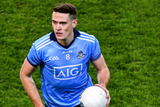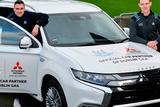 The main chapters of the story of the remarkable rise of Brian Fenton are public knowledge by now.
Less well documented is the dramatic week in 2014 that changed everything for the Raheny midfielder.
To recap.
Fenton, famously, was dropped from the Dublin minor squad, told he wouldn't make the cut by none other than Dessie Farrell.
Two years later, he lost his mother to cancer, an experience about which Fenton has spoken eloquently in the past.
Sometime around then, he underwent a growth spurt, one he's convinced was caused by the springy after-effects of lugging a heavy school bag from Raheny to Leeson Street every morning during fifth year of secondary school!
Quite how quickly he sprouted, Fenton's not sure. But it's fair to say he grew into his limbs.
Now, he stands tallest among inter-county midfielders; five All-Ireland medals, four All Stars, 2018 Footballer of the Year, still yet to lose a championship match at senior inter-county level in his sixth season.
Misfortune
What isn't widely known about his tale is that week in April six years ago that changed the course of Fenton's football career irrevocably.
That were it not for the misfortune of Dublin's previous sparkling midfield prospect and friend, Shane Carthy, Fenton might never even have been presented with a chance to take.
First, back to 2011.
As it happened, it was Noel McCaffrey - Jack's father - who initially informed Fenton of the bad news - he wouldn't be part of the Dublin minor panel that summer. McCaffrey was part of Farrell's backroom team and one day in January, he invited Fenton for a walk down by the coast in Raheny.
Fenton knew he wasn't playing well. During the walk, McCaffrey confirmed that Dublin management were also acutely aware of his form - or lack thereof.
"I remember leaving that conversation bawling my eyes out," Fenton recalls now.
"I was more or less told it's not going to happen and I met Dessie and it was more of the same.
"I thought I was gone," he admits.
"Not that I wouldn't play on with the club but that county was beyond me, definitely."
The aforementioned growth burst happened around that time, and paradoxically though it seems, Fenton says he was "lucky to get an injury," whilst playing Freshers football for UCD.
The first episode put him back in the mix for midfield. The second forced him to invest more seriously in physical preparation.
"As much as I wanted to keep playing I just had to take time off to have the surgery and do the rehab," Fenton says.
"For the first time ever I was in a gym with a physio and getting guided through things.
"And it wasn't just physio for the knee, it was conditioning. I think, in many ways, that was a blessing in disguise."
Such was his subsequent form for club and college, Farrell brought him into the Dublin U21 panel for 2014 but by the end of their successful Leinster campaign, a brief cameo against Carlow in the opening round was all Fenton had to show in the only currency that mattered to him: game-time.
This is where fortunes took an entirely unexpected swing in the space of a couple of days.
Naomh Mearnóg's Carthy had been Man of the Match in the Leinster final, scoring three points against Meath.
By that stage, he had already played senior for Dublin, made his debut during his Leaving Cert year and earned an All-Ireland medal as an extended panel member in 2013.
But that was when Carthy's struggle with depression became overbearing and he began to receive treatment.
It's a delicate subject but Fenton notes that "Shane is very open about it," now.
"He had been lording it all that competition and I was next man up."
Classic
Still, Carthy's issues were unbeknownst to Fenton and he cornered Farrell after a team meeting in Parnell Park on the Tuesday after the Meath game and pleaded for his chance.
"He gave classic manager sort of answers - 'Stick with it', 'you might get a break'."
So Fenton skipped training that Thursday and instead, went to the UCD PhysioSoc ball.
He sold management some story about a pre-arranged family dinner.
"I was like, 'Ah, Dessie, it's my sister's birthday' or some nonsense."
In reality, Fenton recalls, "I sort of took the hump. Just swerved the session."
"This was the week of the semi-final against Cavan and I was thinking 'I'm not going on with this bullshit' and whatever.
"I went to a college ball on a Thursday nigh and missed a session. I was like 'look, I'm not getting on, I'm pissed off here'.
As it happened, that was the first session Carthy missed.
"So I got a call the next day (from Farrell), number one; giving out to me. And number two (asking) "do you want to start?"
"Dessie rang me and said 'are you into this?'
"I said, 'I pinned you down the corridor earlier in the week, of course, I am'. And that was it."
Selected number 20 in the match programme for the semi-final against Cavan, Fenton started and justified his elevation.
He did the same in the final against Roscommon and the following year, he was drafted into Jim Gavin's senior squad, beginning his incredible unbeaten run that summer and rapidly establishing himself as the outstanding midfielder in the country.
So occasionally, when he is informed that he has yet to suffer any adversity in his football career, that he doesn't know what losing feels like or that success has come easily to him, Fenton affords himself a smile.
"There's been a bit there," he acknowledges.
"Don't get me wrong, I've been very lucky - lads have missed half seasons with soft tissue injuries like recurrent hamstrings.
"I've been lucky in that regard. But yeah, I've a couple of soppy stories to tell," Fenton concludes.
"But I don't necessarily tell them too often."