I trained in a trauma unit for new show, reveals Dublin star Catherine Walker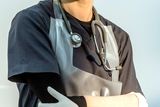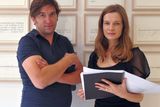 Dublin actress Catherine Walker has revealed she spent time shadowing trauma doctors to prepare for her role in her new TV medical drama, Critical.
Sky One's new show will focus on one story in one hour - a real-time medical story in which every second counts during the most life-threatening hour of a patient's treatment.
"I play a trauma doctor, it's set in a trauma unit and it's based around the golden hour, which is the first hour when you bring in a trauma patient," she told the Herald.
"It's shot in real time, so you follow us through that hour so I'm excited for it to air."
Catherine (40) admitted it was difficult learning all the medical jargon for the intense shoots.
"It was so tough because every surgery that you see me do, I did. The whole thing with the show is that it's an authentic medical drama so we trained in St George's Hospital in London," she explained.
"We spent a number of weeks training there, we had consultants with us all time.
"It was tough because you had no idea how you were going to respond to it - I had no idea how I'd react, I thought I might faint.
health
"It ended up being a massive privilege because these people were letting us into their world and it's quite extraordinary the work that they do," she added.
Meanwhile, Catherine is currently starring in Irish film Patrick's Day with Moe Dunford, which tells the story of a young man with mental health issues who becomes intimate with a suicidal flight attendant before his obsessive mother enlists a dysfunctional cop to separate them.
"It's such a special film, and I think audiences are going to love it," she said.
"Moe and I had a wonderful time - we did it all in three weeks and we instantly got on.
"It's a love story between the two characters. In a way you have the opposite to what you normally have, where they have to get through all the layers of stuff.
"They see through those layers instantly and there's a brightness to it."
hnews@herald.ie