I kept precious memento from Grand Budapest shoot, says designer Annie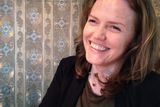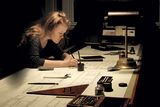 A DUBLIN-based graphic designer who worked on the Bafta-nominated hit Grand Budapest Hotel has revealed how she kept a precious momento from the film.
Annie Atkins was the lead designer for Wes Anderson's critically acclaimed movie, which leads the pack this year with 11 Bafta nominations.
And the designer revealed how her most treasured possession is a book she made for the opening credits of the hit movie.
While two of the famous books which open and close the movie reside in Hollywood, the third has pride of place in her Stoneybatter home.
She recalled how she had been working in her Dublin studio when she got the call offering her the chance to work with Anderson on the movie.
"I was floored, really. In two weeks I was in Germany and we spent six months there. He was amazing to work with, very, very particular about everything," she added.
Atkins was responsible for every item in the movie that had any writing on it from posters and newspapers to letters, money and police reports.
"We had to make 20 to 30 versions of the same prop in a day. Wes also has a very strong aesthetic style.
"My favourite piece was the book that opens the film. I made three of them because they always end up being dropped in a puddle or with coffee spilt on them. After the film two copies went to the archive in LA and I have a secret copy here," she said.
shoot
She spent six months on location in Gorlitz, a tiny German town on the border with Poland, for the shoot.
Since completing her course in film design in UCD, she has worked on a host of shows including The Tudors, where she taught Rhys Myers to use a quill.
"He was actually brilliant with a quill. Most actors find it easier to horse ride than to learn calligraphy but he really took to it," she said.
hnews@herald.ie