I hope to God every time the gunman closes his eyes he sees Martin - Dad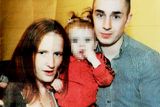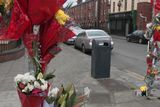 The family of tragic gang victim Martin O'Rourke - the innocent dad gunned down in a botched hit - have revealed he was on the way to an education course when he was murdered.
His father-in-law Larry Power said the young dad-of-three was on the way to a back-to-education programme, which he had been attending three mornings a week, when he was shot by an assassin on a bike.
The Sheriff Street shooting, which took place at around 12.25pm, was the latest violent murder in the ongoing Kinahan-Hutch feud that has claimed five lives so far.
It is believed that the target of the hit, Keith Murtagh, was in the area at the time of the shooting but escaped.
Disbelief
Mr Power told Joe Duffy on RTE's Liveline yesterday that they have been told Martin (24) was wearing the same colour jacket as Murtagh, which may have caused him to be shot.
"Unfortunately the fella they were looking for was wearing the same colour jacket as my son-in-law Martin," he said.
Martin's partner of seven years, Angelina Power, also expressed her disbelief that his jacket could have cost him his life.
"His jacket got him shot, a blue jacket. So you can't wear a blue jacket now. I've one myself and so do my kids, so are they not allowed to wear them now because they're father got shot?
"The fella they wanted had the exact same jacket on. The people in Sheriff Street said that the gunman ran after Martin because of that jacket," she told the Herald.
It is the second tragedy to hit the family, Angelina revealed.
In 1999 her uncle, Matsie Hand, was killed when he was shot as he intervened in a row on a halting site in Blanchardstown.
"I want my husband to get justice, my mother's brother was shot 17 years ago and he never got justice," she said.
"The man that did it walked scot free... I want my husband to get justice."
Mr Power has also said that he passed the crime scene later in the day before he had learned of his son-in-law's death.
He also hit out at the "cowardly" gunman who, he said, could have killed others during the shocking incident.
"This guy didn't have any regard for life, when he came in he fell off the bike, he got back up off the bike, took out the thing and exchanged 13 rounds of ammunition around the whole area," he said.
"There was two other young lads that nearly got it there as well.
"It was like he was out of his head on the bike, he didn't know if he was coming from day to night, this chap.
"It didn't matter who got caught in the crossfire. He just wanted to do someone.
"This is a very cowardly person that did this… wanting to make a name for himself, that's what I put it down to.
"I hope to God that every time he [the gunman] closes his eyes he sees Martin and he sees what he's done to these poor children," he said.
"I hope he realises what he has done to those innocent kids, they don't deserve it.
"The little one is always asking: 'Where's my daddy? I want to see my daddy.'
"She's going on all the time about her daddy but we don't know what to say to her, she's too young to understand," he said.
"The baby is left now with no daddy."
Martin was trying to get his life on track for the sake of his children, his father-in-law said. His oldest daughter is just four and Angelina is expecting the couple's fourth child.
He had been "mixed up" with drugs in the past but had been clean for a number of months, Mr Power said.
At the time of his death, Martin was living with Angelina in sheltered accommodation in the George's Hill Hostel on Halston Street in Dublin 7.
Mr Power's grieving daughter is staying with him since the murder.
"It's very, very hard but we're doing the best we can," Mr Power said.
"The horror of this is heart-breaking for my family. It's sickening to know this happened, it is just unbelievable."
Angelina and her parents were "the only family he had", and Mr Power said he treated his son-in-law like his own.
Donations
"The first time I got to know Martin was seven-and-a-half years ago, I looked after him to the best of my ability and I treated him like a son, because he was like a son," he said.
The family are appealing to members of the public to help cover the expenses for the young dad's funeral.
No date has been set because his body has yet to be released, but a service is being planned for the Halston Street Church.
Donations of services have flooded in from the local community with people offering flowers, singers and musicians.
A Go Fund Me account is due to be set up this morning, which will accept donations from anyone who wishes to get involved. People can also make donations directly to Bourkes funeral directors in Smithfield.
Locals in Sheriff Street have also organised door-to-door collections and a raffle, the proceeds of which will be added to fund.
Any money left over will be put into a trust for Martin's children.