'I heard screams' after 7 killed in tram horror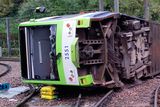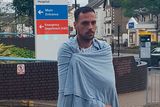 At least seven people were killed and more than 50 injured when a tram derailed while rounding a tight curve in a rainstorm in south London.
Investigators said the train, which tipped over on its side, apparently was going faster than permitted.
Police arrested the 42-year-old tram driver on suspicion of manslaughter.
Emergency workers laboured for hours to free five people trapped in the wreckage of the two-carriage tram tipped over next to an underpass in the Croydon area.
The Rail Accident Investigation Branch said the tram derailed as it was negotiating a sharp curve with a speed limit of 12 miles per hour (20 kph).
"Initial indications suggest that the tram was traveling at a significantly higher speed than is permitted," it said in a statement.
Flying
Passenger Martin Bamford (30) said the train speeded up and "everyone just literally went flying".
"There was a woman that was on top of me ... I don't think she made it at all," Bamford said outside Croydon University Hospital, where he was treated for rib injuries.
"She wasn't responsive. There was blood everywhere."
Liam Lehane of the London Ambulance Service described many of the people hurt as "walking wounded" but said others suffered serious injuries.
London's fire department said eight fire engines and four specialist rescue units were among the first responders to the Sandilands tram stop after the accident that happened shortly after 6am yesterday morning.
The British capital's only tram network operates in the southern end of the city, serving 27m passengers in the last year.
Yesterday's derailment is the first tram accident with onboard fatalities since the 1950s.
Shelter
A grandmother whose daughter usually catches the tram which derailed in Croydon has been offering food and shelter to rescue workers at the crash site near their house.
Sharon Yerkess's daughter Leanne (31) was late for work so missed the tram and returned home after coming across the "horrific" crash site at 6.30am.
"She said there had been an accident.
"She said she could hear a woman screaming and that it was heartbreaking," said Ms Yerkess (53) whose house in Addiscombe Road which backs on to the scene.
"I went outside and it was just horrific - you could hear screaming, that really hit me. It was horrible there was nothing I could do."
Ms Yerkess initially closed the windows to drown out the screaming and protect her two young grandsons.
It then dawned on her that her daughter could have been on the tram.
"She would have got on any other day - lucky for her she was late," she said.