'I have never fallen into that trap'
Ballymun All Star Philly defends his record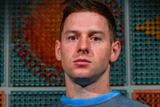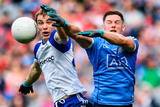 Philly McMahon is comfortable with the fact that his reputation precedes him.
He's fairly sure too that he features prominently in the conversations taking place in the dressing-rooms across from where he performs his own pre-match ablutions.
"I'd like to be a fly on the wall of the changing room of the opposition," he smiles when the subject of him being one of the targets Owen Mulligan talked about earlier this week comes up.
"But certainly, I think it would be a stupid thing to do because it's kind of my bread and butter.
"I've never fallen into that trap. So if there's an opposition team that are thinking of doing that to me, I'd welcome it.
"Because I don't think it works."
McMahon has been a Dublin player for nine seasons and his only red card came in a nothing League game in Derry three years ago.
Since then, he has gained admiration and notoriety in equal and substantial measures.
His performances in 2015 saw to that.
And McMahon revels in the notion that forwards and managers are devising ways to either curb his influence or in some cases, try and wind him up.
"You have to remember that as a defender, you're looking to change the mindset of the forward," he explains.
Ruffle
"Because all you're doing is chasing them around the pitch.
"So if they're thinking about me - whether that's marking me going up the pitch or trying to get into my head or trying to ruffle me up - that's great.
"They're thinking of me, not the game. That's the way I see it."
McMahon is old school in that he delights in the man-to-man battle his position traditionally hosted.
Yet he also reads the game instinctively enough to play as an effective sweeper when needed and when combined with his playmaking talents and occasional score-taking, it makes him a very rare breed of multi-faceted modern defender.
"It's very hard to say you're going to win a battle mentally unless you outperform a player that you're marking," he outlines.
"So I would like to think that if a man said something to me to put me off my game, it draws more out of me. And if I do the same to the fella I'm marking, it draws more out of him.
"So then we're trying to get the best out of each other. That's what I'm looking for. I want to mark the best players on top form and I want to see what I'm like."
He is Jim Gavin's hammer of choice and he is comfortable that attempts to apply the same techniques to stop his game would be pointless.
"I'm very lucky that I've done MMA a lot so when you're getting punched in the face and you're not just reacting, you're responding to the situation and it just becomes a habit," he explains.
"It's something I've done all my career.
"I can only think of one occasion (the Derry game in '14) where I've lashed back.
"And it was just there was a man hanging out of me and I was putting my arm back to get him off and hit him in the face and it was a red card.
"One incident in nine years."
At 29, McMahon reckons he has hit his peak years as a footballer.
He came as a substitute in the 2011 All-Ireland final and though he started the '13 decider, his non-selection in the previous Championship games that summer means he sees a duller shine off those medals to the last two.
"I suppose…'15 and '16 were really good years for me," he says. "And although a lot of people think it's a long year, it's actually quite short.
"It's six games and you win an All-Ireland. So it's quite short that way. So I've only really started playing the last two years and I hope this is my third year, playing decent football and really enjoying it."
He has learned, too, how to train better rather than more frequently.
McMahon missed the Leinster semi-final against Westmeath with a hamstring strain, his first injury-caused absence of his Dublin career.
"When I was younger I was always looking for the extra edge, the extra gym session," he explains.
"But now I'm looking for, instead of the amount of time I'm spending in certain areas, I'm just trying to condense it down and have better quality in those areas.
"Making sure I'm not dropping a yard or too.
"Because I don't have that time," McMahon adds. "So I want to get quality out of what I have."