'I felt lucky to have Cathy' - Dubliner Keith paralysed in fall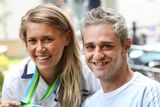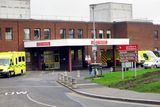 A Dubliner who was left lying in a bush for two days after falling from a ledge in Slovakia has said he is "incredibly thankful" to his "hero" physiotherapist for getting him back on track.
Keith Boyle (33), from Coolock, was left paralysed from the waist down when he fell from a 20-foot ledge while in Bratislava.
He spent the next two days concealed in bushes pleading for help.
The marketing professional was on a working trip to the Slovakian capital in April this year.
After an evening dinner out, he split off from his group to take a short walk around the city.
Keith found himself in a dark and deserted area and he misjudged his footing, falling 20ft and landing on his back.
When he came around, he "couldn't move his legs" and was lying in bushes that hid him from view.
Keith lay in the bushes in the centre of Bratislava for two days without food or water, calling out for help only at intervals in order to conserve his voice.
Surgery
He also made a "conscious effort to stay awake" during the day and sleep at night to save energy.
He was discovered two days later by a passer-by, who called an ambulance.
Four days after he was found, Keith underwent spinal surgery in Bratislava and spent two weeks in hospital waiting for a bed in Dublin.
He told the Herald he struggled a lot while being cared for in Bratislava, especially with the language barrier, and said: "I just wanted to know some sort of plan."
Once he was able to come home after a couple of weeks, he was cared for at Beaumont Hospital and he said "almost immediately I started to feel positive about it".
Keith asked for recognition for his physiotherapist Cathy Keating for her "incredible" work with him.
"The staff in Beaumont really are amazing, and Cathy really helped me gain so much. I felt so lucky in the end," he said.
"Even sitting up was impossible at one stage."
Rewarding
Cathy said Keith was "so easy to work with" and "to see him gain his independence was an incredibly rewarding thing".
He spent many weeks at Beaumont Hospital and is currently attending the National Rehabilitation Hospital in Dun Laoghaire.
He is continuing his rehab and hopes to further increase his mobility.
"The plan now is to spend a little more time in Dun Laoghaire and get everything back going, get back to work and everything," he said.