I couldn't face Game of Thrones nude scene, says Charlie actress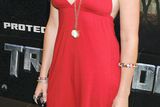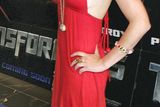 Charlie's breakout star Sinead Watters has revealed that she said no to a nude role in Game of Thrones.
The former head of press and publicity for Aiken promotions left her glamorous job in 2012 to pursue an acting career and is glad her role opposite Aidan Gillen was one in which she was fully clothed, rather than as a naked prostitute in the hit fantasy series.
"That was a strange one," she admits.
"'We have a role for you in Game of Thrones. Would you be willing to go naked and play the role of a prostitute?'
"Eh, no thanks. You just keep on plugging away because you get a lot of rejection.
"That can be tough but you have to forget about it and keep on trying. What's good about Ireland is that if you don't have an agent you can contact casting directors directly," she added.
When she auditioned for the part of Jacinta, a shop-keeper in Charlie's constituency, Sinead had no idea she would be acting opposite Aidan Gillen.
"I think Charlie is my first real break," she said.
"I have kind of done short films and then my own one but this is RTE, the national broadcaster.
"My mum keeps telling me that I have made it because I am on RTE," she added.
Unlike most of the characters in the series, Jacinta was created for the drama.
Her shop-keeper character forms an unlikely relationship with Charlie.
"My character is completely fictional. There was a shop in Donnycarney where he would go and get a paper for his mum," Sinead says.
"That much is true but I don't think there was a girl there that he had regular dealings with.
"I think they wrote my character as the one person who gets through to Charlie. She is his connection to the real people of Ireland.
failings
"I think that Jacinta shows off a softer side of Charlie. I think she shows that Charlie has a bit of heart despite all his many, many failings," she told a newspaper magazine.
The drama, which has caused widespread debate, finished last night and Sinead is hoping it will further her career.
"Please God, Charlie will open doors for me. I have been knocking on so many doors for so long and to be able to tell people that I am on television at the moment really helps," she says.
hnews@herald.ie