How young Finglas fighter is taking Thaiboxing world by storm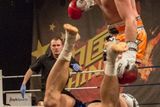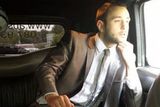 A FEW weeks ago a martial arts fighter from Dublin fought in a packed 20,000 seater stadium. His bout was watched by 200,000 people on television.
No. It wasn't Conor McGregor. His title fight in Las Vegas was small fry compared to the buzz in China when Aaron Browne fought Zhao Chunyang.
The Finglas man travelled to Jiyuan in the Henan Province as the first Irishman to hold a prestigious World League of Fighters (WLF) belt. He was expecting to fight Hu Yafei, the fighter he'd defeated to clinch the title. As we'll see, he was in for a shock.
Browne is relatively new to martial arts. But his progress has been spectacular.
"I tried kicking a football as a kid but I had two left feet," he explains. "Then a friend asked me to try Thaiboxing. I did and was lucky enough to meet Tommy Maher the head coach at Chaiyo Gym in Santry. I enjoyed the training. Tommy was driving me on and and after a few months he threw me into a fight and before I knew it, things took off. That was two years ago."
The 22-year old turned pro and since then has begun winning titles.
"As an amateur, I had 14 amateur fights in 11 months," he says. "I won the amateur K1 White Belt title and then got a chance to jump into a cage."
Thaiboxing is a different discipline to kick-boxing. Browne explains, "Thaiboxing is the hardcore of stand-up fighting. It's like kick-boxing except you have eight weapons. Fists, elbows, knees and feet. We wear ten ounce gloves. You're allowed to use elbows and knees and trips and falls and so on. Basically, I do everything Conor McGregor does in the ring except I do it standing up."
Browne currently holds four belts at 70kg. He's Irish K1 champion and Irish Cage Champion. He also holds the European K1 Contender title and the WLF belt.
I ask the obvious question. Does Browne see himself becoming an MMA (Mixed Martial Arts) fighter?
"At the minute, winning the titles in these disciplines is just like learning my trade," he says. "But yes, I'd love to get into MMA. I know I need to improve my skills. I'm still relatively new to the sport."
Browne's WLF title fight against China's Hu Yafei in Dublin got off to a bad start.
FLYING
"I took a flying knee in the first round and thought I was gone," he admits. "I didn't think I was getting up until I heard my coach Tommy roaring at me. That was a tough fight."
Browne won on points. "It's all about heart," he says. "Six-packs and muscles don't win you fights. It's the heart and the engine that keeps you going. I've been told I have a golden heart and a jaw of steel."
Browne picked up the European K1 title in February in Middlesborough. K1 is an older form of Thaiboxing which forbids the use of elbows to the head.
But nothing prepared him for the level of competition he encountered in China. His fight was on the undercard of China's Fight of the Century between superstars of the sport, Buakaw from Thailand and Yi Long ('The Fighting Monk'). A sell-out crowd of 20,000 roared on each fight and hundreds of millions were tuned in on TV. Shortly before the fight, Browne discovered he'd be fighting a different opponent. He could find nothing on the internet about him. No fights on YouTube. But Irish fans based in China put him in the picture.
It turned out he was meeting the fiercesome Zhao Chunyang, an army major, and Olympian, who designed fitness programmes for the troops. Aaron welcomed the test. Within three minutes, the referee stopped the fight to save Browne any more punishment.
Did the mauling dampen his enthusiasm?
"Not at all," he declares. "I was in against the best in the world. He was phenomenal. It was the best thing I've done in my life. I learned so much. Those Chinese guys hit like hammers."
So what's the attraction?
"I love this sport," he insists. "It's tougher than MMA. In boxing you can play with it, keep out of trouble. You don't have to hit with power. In this, everything you do has to sink in hard and break your opponent. From the first second, it's explosive. It's all high intensity. Once you go forward, I don't think you ever go back. Thaiboxing is the most aggressive sport. But there's respect at its core. Respect for your opponent and the coaches. It's so aggressive and explosive, it spoils you for watching other sports because they seem so dull by comparison."
He's been in the ring since then. As his last opponent, Alex Akiminov from Liuthuania, discovered a fortnight ago, a wounded Browne is a dangerous beast.
"I had to beat him," says Browne. "I wasn't taking any crap."
Browne has stepped up his training regime.
"In the mornings I go for a 10k run," he says. "Then I do two hours non-stop training in the gym. After that I go over to Paschal Collins' Celtic Warrior Gym for boxing training for a few hours. At six o'clock it's back to my own gym for training with Tommy (Maher). In all, I train each day between six and seven hours, five or six days a week. Tommy is the hardest trainer in Ireland. He's devoted his life to the sport. He lived and fought in Thailand for years. He's uncompromising. It can get very intense."
On August 8, Browne defends his Irish title against Cian Cowley at the National Stadium. In September, he fights a guy from Portugal in the Cage Kings event.
It November, as European champion, he contests the world title in England against champions from Africa, Brazil and Asia.
"I want to be the best," he says. "And put a few quid in my pocket."