How Song of the Sea found its voice among Hollywood elite
Oscar-nominated Kilkenny animator Tomm Moore is taking on Pixar and Disney with a beautifully-crafted, moving and magical exploration of grief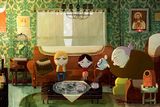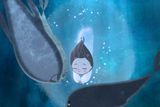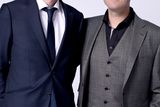 Up and down the coasts of Ireland and Scotland, stories were once commonly told in which beautiful, shape-shifting creatures - the selkies, or seal-people - would emerge from the sea and bring comfort to lonely souls.
Sometimes they were seducers, but just as often they were family-minded, and would marry and raise children with their human partners.
All would be well until the day they were called home, and they would slip off as softly and unstoppably as a wave running back down the shore.
The stories are bereavement allegories, and ripe for modern retelling. So it's surprising that films about selkies - as opposed to mermaids, who pop up everywhere - aren't more common.
Seven or eight years ago, that struck Tomm Moore as odd. The Irish animator was waist-deep in production on his first film, The Secret of Kells, and was reading David Thomson's book The People of the Sea, which traced the roots and branches of the selkie myth.
Storytelling
Only two notable films to date - John Sayles's The Secret of Roan Inish (1994) and Neil Jordan's Ondine (2009) - had delved into selkie lore, and Moore became convinced that great wells of storytelling potential were going untapped.
"I'd noticed that in a lot of the traditional tales, the kids are kind of an afterthought," the affable 38-year-old tells me on a Skype call from Bratislava Airport, waiting to come home from an animation festival in Slovakia.
"The central relationship is between an adult man and woman, and then they'll end with something like, 'And one day the kids went down to the beach and saw a seal, and thought it might be their mother.' I was thinking, 'Jeez, that's poignant stuff'. "
So in his second film, that's the story Moore set out to tell. Song of the Sea begins on the evening Ben, the four-year-old son of a lighthouse keeper, is about to become a big brother.
His beautiful mother kisses him goodnight, and as his eyelids sink shut she tells him he'll be the best big brother any child could ever wish for.
But in the morning, Ben's mother has gone and his new baby sister, Saoirse, is all he and his father have to remember her by. In Moore's own words: Jeez.
Six years later, Ben learns that his mother was a selkie, and that Saoirse has inherited her gift - a discovery that spirits brother and sister away into a world of faeries, elves, enchanted wells, a broken-hearted sea-giant and his own jealously protective mother, the owl-witch Macha.
The fantastical story is brought to life in swirling hand-drawn animation, inspired partly by Celtic folk art and partly by modernist painters such as Klee and Kandinsky (Moore's assistant director, Fabian Erlinghauser, spotted the visual connection) - while, as in The Wizard of Oz, each fantasy element in the tale has a real-world equivalent. (Macha, for example, looks not unlike Ben's well-meaning but surly grandmother.)
That interplay of reality and magic makes it the most complex and subtle exploration of grief in a children's film - perhaps any film full stop - since Pixar's Up.
Working out just how deep to go was a delicate process. The Irish Film Board asked for as upbeat (and therefore easy-to-sell) an ending as possible, but Moore wanted to stay true to the melancholic selkie myths.
In the end, a series of test-screenings with his primary schoolteacher wife's class helped him find the sweet spot.
"Those kids are way more intelligent than adult audiences," he explains. The notes that older viewers gave him, he says, all tried to pinpoint flaws in the film's dream logic: "They thought they could outwit the story, rather than go along with it."
Moore's young test audience, on the other hand, was more concerned with the relationships, and as a result of their feedback - they thought an exchange in which Ben tells his sister he hates her overstepped the mark, for instance - he dialled certain scenes down a bit. That's a pre-teen audience asking for more subtlety. More studios should test-screen their films in Kilkenny.
For Moore, this counts as home turf. His studio, Cartoon Saloon, is based in Kilkenny, where he's lived since early childhood.
He grew up enchanted by the films of Don Bluth, like The Secret of NIMH and An American Tail, that were drawn at the Sullivan Bluth studios just a couple of hours up the road in Dublin.
"The fact these great films were being made right here, at home, made hand-drawn animation seem like something I could do," he says.
But in his first year of studying classical animation at Dublin's Ballyfermot College, Pixar released Toy Story, and suddenly the future didn't look hand-drawn.
KNOCKED
"It knocked our socks off, but there was definitely a bit of soul-searching that went on," he says. By the time Moore graduated, Sullivan Bluth Studios had gone bankrupt, and the Irish animation business was broken.
Some of his friends went to work for video-game companies; others ended up at Pixar. Determined that there would be a future for traditional animation at home, he founded Cartoon Saloon with a couple of classmates. Ten years later, the industry repaid his faith: he was nominated for an Oscar.
In Hollywood terms, Moore's debut feature, The Secret of Kells, was a minnow. But when he was touring it around European film festivals in 2009, a fellow animator saw it in Edinburgh and was so impressed that she ran an awards campaign for it on spec.
The result was a place on perhaps the strongest and most diverse shortlist in the animation category's 14-year history: its rivals were Up (the eventual winner), Wes Anderson's Fantastic Mr Fox, Henry Selick's Coraline and The Princess and the Frog, from a newly resurgent Disney.
Earlier this year, Song of the Sea elbowed aside The Lego Movie to take Moore's Oscar nomination count to two, and you wouldn't bet against whatever he does next completing the hat-trick.
The magic of Moore's films is that they are past and present in the same package; old stories and artistry made new in the retelling. The images pass by, but their beauty leaves a stain. The selkies would wholeheartedly approve.
Song of the Sea is out on July 10