Homeless man (54) lay dead in city doorway for hours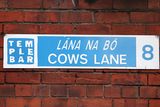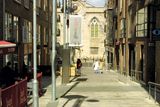 Ken Foy and Robin Schiller
A 54-YEAR-old man has become the latest homeless person to die on the streets of the capital after his body was found in the doorway in the Temple Bar area this morning.
The grim discovery was made at Cow's Lane at 6.40am by a person who was walking to work.
The emergency services were notified and gardai rushed to the scene where the man, who is a Lithuanian national, was pronounced dead.
Gardai are not treating the death as suspicious and the early indications are that the tragic man had been dead for a number of hours before his body was discovered.
It has emerged that he had been living in Ireland since at least 2009 .
Sources have revealed that the man had been living at various addresses throughout his time in Ireland and had been given the opportunity of accommodation at a north inner city hostel in recent weeks.
Local resident Gavin Wallace (38) described how he woke up at 6.40 am to find flashing blue lights outside his apartment which over looks the scene.
"I was getting up for work and I noticed the blue lights. I looked out my window and saw a man lying on the ground with a sheet placed over him. Gardai had cordoned off all Essex street to stop people walking down it, and also that square area on cows lane. The ambulance and fire brigade were there as well. It was a horrific scene to wake up to"
The council arrived to clean the scene shortly after 10am , putting bleach on the ground and power housing away  a small quantity of blood.
Sources have revealed that the Lithuanian man had dealings with the Merchant Quay Project which is a voluntary organisation providing a wide range of services to people who are homeless and for drug users.
The man is the first homeless person to die on the streets of Dublin since the high profile death of Jonathan Corrie (43) in December.
Brother Kevin Crowley, who runs the Capucin Day Centre said he is "saddened" to hear of another death on the streets.
He said that while there have been improvements since Mr Corrie's death, some of those who sleep rough fear going to hostels because they want to avoid drugs or are afraid of being robbed.