Hollywood hunk Ryan plays hard to get with movie news, reveals Saoirse Ronan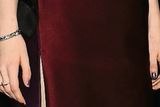 Top Irish actress Saoirse Ronan has revealed that Ryan Gosling isn't the best at responding to his emails.
The 20-year-old starred in Gosling's directorial debut Lost River but admits she doesn't know much about the film's release as he doesn't respond to her emails.
"I have his email. He never emails anyone back. He's so bad at emailing back, but he did email me the other day. I felt really lucky to receive his words," she said.
Panned
The movie panned when it premiered at the Cannes Film Festival last year and is now only going to be given a limited cinema release in the US as a result.
The movie also stars Christina Hendricks, Ryan's girlfriend Eva Mendes and Matt Smith.
The magical-realist film follows single mother Billy - played by Hendricks - as she is "swept into a dark underworld" while her teen son discovers a secret underwater town.
"He's very excited about it," Ronan said. "I don't think I can say anything about it yet, but people will get to see it sooner rather than later. And the poster is really cool for it. Go and see it for the poster alone," she added.
Meanwhile, the critics are raving about Ronan's performance in Brooklyn and the Oscar nominee admits she waited before she chose to do an Irish film.
"I was waiting for the right Irish project to come along with the right Irish character," she said.
"I didn't want it to be the stereotypical Irish film. I've been offered a few of those and I haven't felt like they were special enough. It wasn't f**king set on a farm and it wasn't about the troubles in the North.
"We've seen that, we've done that," she added.
Saoirse also has another film premiering at the Sundance Film Festival called Stockholm, Pennsylvania which is worlds away from Brooklyn.
She plays a young woman who was kidnapped as a child and raised by her kidnapper in a basement. She is reunited with her parents after 19 years, but barely remembers them.
"I've always relied on my instinct. The director is incredibly important. They need to be clear about what they want," she said of working on such a delicate story.
"I started acting when I was young and though I was lucky with the people I worked with, and they treated me with respect and as an equal, I was still the kid."
hnews@herald.ie