Hero gardai awarded medals for foiling robberies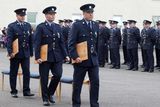 Three gardai were honoured with Scott Medals for bravery after they helped foil armed robberies in Dublin.
One, Garda Gavin Cahill, was only a student garda when he fearlessly came to the aid of his senior colleague, Garda Joseph Glackin, who was shot in the hand by ruthless raiders in Finglas, Dublin on October 27, 2004.
Bullet
Incredibly, a torch being carried by Gda Glackin in his right hand is believed to have deflected a bullet away from his body after the raiders fired directly at him.
Gardai said the torch most likely saved the garda's life.
Gda Glackin subsequently required plastic surgery to his hand and lengthy out-patient medical treatment. The three Scott Medals were presented by Garda Commissioner Noirin O'Sullivan and Justice Minister Frances Fitzgerald to the three officers - Garda Gavin Cahill, Garda Joseph Glackin and Garda Michael Bolton.
Gda Bolton was honoured for foiling an armed robbery in Portmarnock, Dublin on November 16, 2012.
Gda Bolton was on bicycle duty that day and, as he responded to the alert over the credit union robbery, came across two suspects, one of whom pointed a gun directly at him.
The suspect later fired at Gda Bolton, who was forced to dive behind a parked car for cover.
The armed raider later approached Gda Bolton a second time in a bid to frighten him away.
But thanks to the persistence and courage of the young garda, the culprits were later apprehended by support units which had raced to the scene.
The citation for the awards stipulated the Scott Medals were being awarded: "For exceptional courage and bravery, involving risk to life in the execution of duty."
The awards were presented at the Garda College in Templemore, Co Tipperary, where 77 new officers had their passing-out parade.
Taoiseach Enda Kenny paid tribute to all three gardai. Commissioner O'Sullivan (inset) also hailed the success of the Garda Reserve, which celebrates its 10th anniversary next month. She pointed out that the Garda Reserve has now reached 1,088 personnel.