Hello Nasty! Domhnall Gleeson revealed as evil General Hux in Star Wars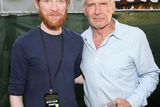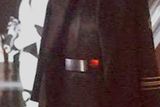 Star Wars fans can rejoice as it has finally been revealed that Irish actor Domhnall Gleeson will play a villain in the upcoming instalment of the much-loved franchise.
The Malahide native joined Harrison Ford, Carrie Fisher and Mark Hamill on the Star Wars: The Force Awakens Comic-Con panel in San Diego on Friday which was attended by 7,000 fans.
The 32-year-old will play General Hux of the First Order and will operate from Starkiller Base, which is a reference to Luke Skywalker's original name in George Lucas's early drafts.
"I'm evil. I mean, I'm British [in the film]. So, yeah," Gleeson told the crowd.
"These movies created a world of their own that was very particular and very beautiful, and they were copied a few times but they never succeeded in having the same magic.
"It's a huge honour and a little bit scary to take it on yourself, it's a bit mad," he said of taking on the role.
Domhnall revealed he watched all the other movies when he got the part.
"I did like Star Wars when I was a kid. I saw the prequels first, I didn't see the full original films first all the way through," he said.
"So I went back and watched them all on a big screen and that made me incredibly excited about it. I've loved every second."