Heartbreak as crash victim's sister carries coffin of beloved twin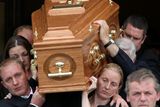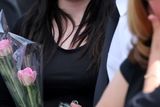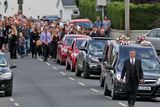 AMID scenes of heartbreaking grief, the twin sister of a road accident victim helped carry the coffin of her beloved "twinnie" from the church at her funeral after vowing that the bond they shared will never be broken.
Mother-of-one Angela Kelly (35) was among the victims of a crash which happened in the early hours of Sunday on the outskirts of Rathdowney, Co Laois.
Also killed outright were Angela's friends, Martin Brophy and Orla Curry, both aged 20.
The group had been on their way to an all-night service station to pick up cigarettes following a 21st birthday party when their car ploughed into a road sign.
Angela Kelly's daughter, Shannon and the sole survivor of the accident, Jamie Kelly at the funeral of Angela Kelly who was one of three people killed in a car crash last Sunday at Middlemount on the R433 Rathdowney to Abbeyleix Road
Angela's nephew Jamie (16), who was a back seat passenger and was also injured in the collision but managed to send a text message for help, was among the mourners at her funeral yesterday at the Church of the Holy Trinity in Rathdowney.
He provided comfort to
Angela's daughter, Shannon (17)
Also among the chief mourners were Angela's parents, Paul and Gillian, twin sister Amanda, sisters Maria and Catriona and brother Anthony.
Family members carried single blush roses in memory of their beloved Angie who had been a popular employee at the SuperValu store in Portlaoise.
Among symbols of her life brought to the altar were athletics medals, family photos and a dream catcher which she had once bought for her daughter when, as a young child, she could not sleep.
Mourners heard it symbolised her belief in an afterlife and of her protection for her loved ones. Parish priest Fr Martin Delaney, the chief celebrant, said the last three days had been ones of hardship for the whole community.
He gave special welcome to the father of Martin Brophy, Martin Snr, and Peter and Ann Curry, the parents of Orla Curry, who were in attendance, saying everyone knew how difficult it was for them to be present.
The funeral cortege makes its way to the cemetary at the funeral of Angela Kelly who was one of three people killed in a car crash last Sunday at Middlemount on the R433 Rathdowney to Abbeyleix Road
Uniformed members of the Defence Forces from the Vehicle Base Workshop in the Curragh camp, where Amanda is a
mechanic, were also there.
In a short but poignant eulogy, Amanda paid tribute to Angela and expressed her joy that she had a "great laugh" at the party on the night of her death and had taken to the dancefloor.
She also revealed that earlier in the day, the family had a get-together with dinner at their parents' house.
There was laughter in the church as she described how there had been high jinks and Angela had thrown the dog's bowl of cold water over Amanda's husband in retaliation for a skit he had played on her.
"You always had a smile on your face," she said of her sister.
There was applause in the church as she paid an emotional, final farewell to her twin, saying: "May you rest in peace."
bubbly
Fr Delaney said there had been "tears and there was laughter" as memories and stories were shared of a "bubbly, warm,
courageous, vibrant young woman who had an ability to brighten up every room she walked into."
She was a medal-winning athlete who loved to keep fit and was the first one out on every dancefloor, he said.
He said the entire community had been plunged into grief following the accident and added that many were angry and questioned why it had happened.
But there were no answers, he said, only that what had happened was not God's will.
To the poignant strains of In the Arms of an Angel, Amanda, along with her brother Anthony, was among the heartbroken pallbearers who carried An-
gela's coffin from the church.