Hats off to Philip Treacy as profits rocket for milliner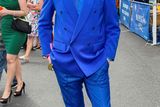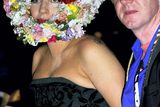 Galway-born milliner Philip Treacy saw profits soar at his fashion firm last year by €319,000.
The Galway-born designer has achieved worldwide recognition with his hat designs and has a client base that includes Lady Gaga, Madonna, Beyonce, David and Victoria Beckham, Grace Jones and Sarah Jessica Parker.
Latest accounts filed by London-based Philip Treacy Ltd show the firm recorded a post-tax profit of £238,604 (€319,029) in the 12 months to the end of last June.
This arose from his accumulated profits increasing from £13,661 (€18,253) to £252,265 (€337,075). The figures show that the cash pile fell from £248,860 (€332,494)to £144,948 (€193,654).
The profits recorded last year are more than double the £112,812 (€150,720) recorded in 2013 and the £110,585 (€147,751)in 2012. Three years of successive profits followed a loss-making 2011 when accumulated losses increased from £111,317 (€148,729) to £210,009 (€280,587).
In a statement on his website, Treacy speaks of his love of hat-making.
spectacle
"I have had the greatest pleasure of having the opportunity to challenge people's perception of what a hat should look like in the 21st Century. I make hats because I love hats," he writes.
"It's an enigmatic object that serves the human purpose only of beautification and embellishment, and making one feel good, whether you're the observer of the spectacle or the wearer."
Lady Gaga, who famously sported one of Treacy's best-known creations - a flamboyant floral headpiece - has previously declared at a London Fashion Week event that the Irishman "is the greatest milliner in the world".
Treacy was awarded an OBE in 2007 for services to the British fashion industry.
He has also designed pieces for the Harry Potter films and for members of the British royal family who attended the wedding of Prince William and Kate Middleton.
A native of Ahasgragh, Co Galway, Treacy made his first creation in the National College of Art and Design (NCAD) from a straw hat that he sold to his tutor.
hnews@herald.ie