Wenger buckles as new regime takes full control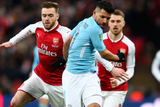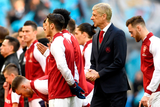 If there is one winner in the middle of the chaos that is Arsenal at the moment it's Mesut Ozil, the proud owner of a huge new contract which he did absolutely nothing to earn other than to hire a good agent.
Had Wenger done what he could and should have done in the summer and cleared out players in his squad who were a problem for one reason or another, Ozil should have been on his way.
Sulking Alexis Sanchez almost went to Manchester City in the last week of the summer transfer window but Wenger blocked the move and I reckon that this was the last moment of full control that he enjoyed.
After that, Arsenal appointed men in suits to take control of the buying and selling of players.
Admirable
Fast forward to January and the Sanchez move to Old Trafford. That was done entirely by Arsenal's new transfer committee, meaning that two big signings, Henrikh Mkhitaryan and Pierre-Emerick Aubameyang, had nothing whatsoever to do with Wenger.
Meanwhile, Ozil found himself in a very strong position. After waving goodbye to Sanchez, the club could not be seen to lose the German as well so instead, they gave him a monster new deal.
I'm not even sure any other clubs were interested. Certainly, if other managers see what I see, Ozil would not be high on wish lists.
Arsenal are now firmly on a descending spiral of poor management on and off the pitch and for the admirable Arsenal supporters who have remained remarkably respectful towards Wenger, I can't bring any prospect of relief soon.
Look what happened at Manchester United when they lost Alex Ferguson. Compared to the stability and success he brought to the club, the years since he left have been a mess.
I can't argue with the idea Wenger has been the architect of his own downfall. I can't argue that Arsenal have been anything but brittle for a number of years and that this can only be the responsibility of the manager. I have to concede that Wenger has a big gap in his knowledge when it comes to defence and that his authority has waned with the passing years.
But the route Arsenal have chosen to address this has made matters considerably worse and when Wenger goes, more than likely in the summer than before, the new man will have to fight a new regime at the Emirates for control of his squad.
He will also have to deal with Ozil and the two big signings in January, Aubameyang a self-confessed messer and Mkhitaryan, a poor swap for Sanchez.
What happens if the new man doesn't fancy any of them? Will Sven Mislintat, the Emirates head of recruitment, sell them for him and buy the players he wants? More likely, he will be forced to make do. The consequences of this fundamental change in the way Arsenal do their business was visible for all to see at Wembley in the League Cup final. Wenger stood alone on the touchline towards the end of the game while his ramshackle team waved the white flag and handed Pep Guardiola his first trophy in England.
That's what happens when you strip away a man's authority. There will be a queue of managers to replace Wenger, Thierry Henry wants the job and wasted no time in betraying his boss by throwing his hat in the ring.
Already, there are names in the frame like Brendan Rodgers and Joachim Low and there's no doubt, it will be an attractive position. But the Arsenal job now comes with a giant health warning for managers. Beware, Director of Football at work here.