Garth Brooks is back ... on a Dublin stage: Croke Park concerts gets theatre treatment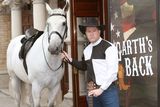 IT WAS the drama that gripped a nation and left 400,000 disappointed country fans crying into their stetsons.
Now the new show chronicling the now infamous Garth Brooks saga has cast its leading man.
Maclean Burke, of Fair City fame, will don the cowboy hat as Brooks, whose planned five-in-a-row gigs in Croke Park last year were not to be.
Burke will also be tacking several other roles in the play, entitled 'Are You There, Garth? It's Me, Margaret'. It will open in Dublin's Gaiety Theatre on October 14.
The Brooks fiasco cost the city an estimated €50m loss in revenue and disappointed more than 400,000 fans, who had their tickets refunded.
Maclean, who made his Fair City debut playing Damien Halpin back in 1998, says that when he heard about the Brooks role he immediately wanted it, feeling he was the right man to play the country singer.
"Then I read Fiona's [Looney] brilliant script and I wanted it even more," he said.
"I can't wait for the public to see this show as I know it's one they will fall for just as much as I have."
The show is teeming with talent, as veteran comedian Deirdre O'Kane stars in a play written by her long-time friend Fiona Looney.
FARCE
"[The play] is a farce with a tender heart," Ms Looney told the Herald.
She said that the "unexpected nature" of the event attracted her to the idea of making the play, which became a blend of comedy and drama.
"It has such a comic vein to it. At the risk of sounding emotional though, we were conscious that this affected 400,000 people who were hugely let down and disappointed," Ms Looney said.
"That's what the story represents - one woman who has gone though an economic collapse, her husband has lost his job, and this Garth Brooks concert kind of becomes a way of making everything better again.
"We did want to recognise that it was an absolutely hilarious thing to happen but also desperately sad," she said.
All the key characters involved in last summer's drama appear, including Enda Kenny, Owen Keegan, Micheal Martin, the Mexican Ambassador and former Lord Mayor Christy Burke.
Previews for the show will run until October 25.