Gardai raid homes of trafficker Lynch and cartel boss Kinahan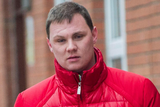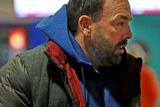 The homes of notorious heroin trafficker Greg Lynch and his father, Gerard 'Bra' Brady, were among five properties raided by gardai investigating the activities of the Christy Kinahan cartel.
Officers also searched an unoccupied property in the Oliver Bond flats complex that was the family home where cartel boss Daniel Kinahan was brought up.
No arrests were made in yesterday's raids and no drugs or weapons were seized.
Sources said gardai did not expect to find illegal substances, and the criminals had been expecting the raids. "The purpose of yesterday's operation was to seize documentation and establish the inner workings and relationships that these criminals have with each other within the organised crime grouping," a source said.
Taken
It is understood that nothing of evidential value was found in the flat in which Kinahan (38) lived until he moved to the Costa del Sol more than a decade ago.
Sources said documents were taken from the homes of Lynch and Brady.
Brady (56) is a close friend of Kinahan's father, crimelord Christy Kinahan, who also lived in the Oliver Bond flats for years.
Brady has 18 convictions for crimes, including theft and possession of dangerous weapons. He has been a target of gardai for years.
Lynch was only 19 when he was jailed for six years in 2004 after being caught handing over €400,000 worth of heroin in the car park of the Red Cow Inn.
He is one of Ireland's biggest drug dealers and has received multiple death threats, which has forced him to live a reclusive lifestyle.
Lynch (31) survived an assassination attempt in October 2013 that left him disfigured.
Cash
Several other properties were searched during yesterday's operation, which was part of the same investigation that led to nine raids on Wednesday morning.
During that operation, two men were arrested in the Walkinstown and Coombe areas of the south inner city and cocaine and heroin worth €65,000 were seized as well as €18,000.
Sources said more raids are planned against the Kinahan cartel.
"Gardai intend to keep on leaning on these individuals and making sure they don't feel they have the freedom to carry on with their criminal activities," a source said.
In connected garda raids last month, officers seized more than €40,000 from the Liberties home of a young criminal who has been acting as Lynch's driver and business partner.
Gardai have been on high alert for another attack in the Kinahan cartel-Hutch gang feud that has claimed three lives since February.