Garda thought he would die in violent attack that cost him 75pc sight in one eye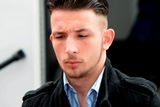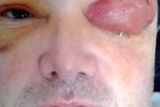 A garda sergeant thought he was going to be killed after being hit in the face with a rock during a violent disorder by a family which required two entire armed Regional Support Units to control.
Sergeant David Haughney lost 75pc of the vision in his left eye after being struck in the face with a rock as his colleague, Garda John Tarrant, bravely stood over his injured colleague to defend him from multiple attackers.
Both gardai were shocked when they answered a simple 999 call in east Cork to be confronted by six members of the Quilligan family who attacked them with weapons, including rocks, rakes, sticks, knives and even a ladder.
RAMMED
One member of the family repeatedly attempted to ram a garda patrol car before a second patrol car was later rammed at speed and written off.
The incident, on December 14 2014, extended over three different Cork locations.
It only ended several hours later when two armed Regional Support Units surrounded the Quilligan family home at Ballymartin, Dungourney, Midleton, Co Cork and used pepper spray, Taser guns and bean bag rounds to restore calm.
Sergeant Haughney will never be able to resume normal duties such was the damage suffered to his left eye when he was hit in the face by a large rock thrown by Luke Quilligan.
Quilligan (20) was jailed for four years for what Judge Sean O'Donnabhain warned was an "appalling and disgraceful attack".
Inspector Eoin Healy, in evidence to Cork Circuit Criminal Court, said that when Sergeant Haughney was struck in the face by the large rock he gasped to Garda Tarrant: "I'm gone."
Garda Tarrant was then forced to stand over his wounded colleague lying on the ground and use his baton to desperately fight off repeated attempts to attack him.
The sergeant said he will never forget December 14.
"The actions of that night have changed my life forever."
Top surgeons said nothing can be done for his eye.
"I see objects in a haze and I see flashing lights like those on a photocopier. My left eye has now become lazy and it is something I am very conscious of."
Luke Quilligan, of Ballymartin, Dungourney, Midleton, Co Cork, pleaded guilty to recklessly causing serious harm to Sergeant Haughney at Mullarie, Youghal, Co Cork.
Quilligan also confessed to engaging in violent disorder.
Five co-accused also pleaded guilty to a variety of charges, including violent disorder.
Father of 13, Simon Quilligan (46), of Yew Wood, Larchfield Estate, Youghal, Cork, admitted violent disorder and received an 18-month suspended sentence.
John Quilligan (23), of Ballymartin, Dungourney, Cork, received a 12-month suspended sentence after the judge noted he was the only person present who attempted to help Sergeant Haughney when he was injured.
Sammy Quilligan (19), of Yew Wood, Larchfield Estate, Youghal, Cork, was jailed for 18 months for violent disorder.
Lisa Quilligan, also known as Lisa Gray (27), of Cork Simon Community, was jailed for 18 months for violent disorder.
The court was told she is now pregnant.
Patrick Cash (36), of St. Vincent's hostel, Anglesea Terrace, Cork, received an 18-month suspended prison sentence and a five-year driving ban.