GAA presenter Michael Lyster remains in intensive care in hospital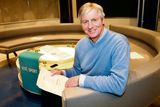 RTE presenter Michael Lyster remains in intensive care in hospital after being struck down with a sudden illness over the weekend.
The Sunday Game host (60) - who has a history of heart problems - was rushed to the Mater Hospital on Friday, where he stayed in the hospital's intensive care unit until Sunday morning.
The broadcaster was then transferred to ICU in St Vincent's Hospital.
Sports presenter Darragh Maloney took over the Galwayman's role on The Sunday Game yesterday, paying tribute to the presenter at the start of the show. "Our friend and colleague Michael Lyster was taken ill on Friday and he wasn't able to be with us today. We want to wish Michael all the best," he said.
Other well-known names from the worlds of sport and broadcasting took to Twitter to wish the popular presenter a fast recovery.
Kerry football legend Tomas O Se led the tributes to the broadcaster.
"Best wishes to that great man Michael Lyster. Praying all will be ok. Thinking of his family," he wrote.
News reporter Ingrid Miley also tweeted her regards to her RTE colleague.
"Just want to wish Michael Lyster a speedy recovery - great broadcaster much missed especially in busy sporting season," she said.
The TV star had a major health scare in 2012 when he suffered heart failure.
"I began to feel sick but didn't know what was wrong with me and kept going. I was actually making things worse," he said at the time.
"Everyone thinks they are indestructible but then you realise you are not and that health can so easily be taken away from you."
Speaking recently, Lyster admitted he felt lucky to have discovered his condition before it was too late.
"If I had assumed for another week or two that this was just a flu and that I could beat my way through it ... I'd probably have decided to keep going and I mightn't have made it. My heart was just gradually shutting down," he said.