Former Anglo Irish Bankers found guilty of conspiring to alter bank records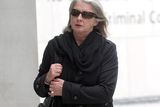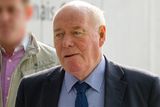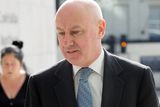 THREE former Anglo Irish Bank staff accused of conspiring to conceal or alter bank records have been found guilty on all counts by a jury at Dublin's Circuit Criminal Court
Former company secretary, Bernard Daly (65) of Collins Avenue West, Whitehall, Dublin, former Chief Operations Officer Tiarnan O'Mahoney (54) of Glen Pines, Enniskerry, Co. Wicklow and Aoife Maguire (60) of Rothe Abbey, South Circular Road, Kilmainham, Dublin had pleaded not guilty to seven alleged offences committed in 2003 and 2004.
Ms Maguire wept as the guilty verdicts were reached.
The verdicts had been delayed following an anonymous phone call placed to the office of the DPP earlier today which led to an application to discharge the jury by Mr O'Mahoney's legal team.
That application was refused after trial Judge Patrick McCartan posed a question to the jury foreman who denied that his (the foreman's wife) knew Aoife Maguire.
The jury have been discharged for life.
It was alleged that the three had conspired to hide or omit accounts, connected to Mr FitzPatrick from Anglo's Core Banking System (CBS) or from documentation provided to Revenue, who were conducting an investigation into bogus non-resident accounts which may have been liable for Deposit Interest Retention Tax (DIRT).
All three were accused of conspiring to destroy, mutilate or falsify documents relating to accounts of John Peter Mr O'Toole, brother-in-law of Mr FitzPatrick, held at Anglo Irish Bank.
Mr Daly and Mr O'Mahoney are accused of furnishing a list of bank accounts in connection with tax that did not include Mr O'Toole's. And Ms Maguire and Mr O'Mahoney are accused of conspiring to destroy the records of six accounts and defraud revenue. The accounts were listed in court as Lock Ltd/Suzie Ltd, Carnahalla Ltd/Suzie Ltd, Lock Ltd, Carnahalla Ltd, Triumvirate Properties Ltd and Sean FitzPatrick Trust/Crohan O'Shea Trust.
The trial lasted eight weeks and involved witnesses from Revenue, The Garda Bureau of Fraud Investigation and the now defunct bank. None of the accused called any evidence in their defence.
In his charge to the jury, trial judge Patrick McCartan told jurors that they could not make any inference from this. He said it's the right of the defence not to call evidence and it is not a sign of them "surrendering."
The judge said the alleged offence of conspiracy occurred when the accused entered into an agreement to break the law. He said it does not matter if the bank accounts turned out later not to be liable for DIRT.
"The offence is the agreement to do it," he said. "Whether it can be done is a secondary issue."
He said evidence against the three was mostly circumstantial and there was little evidence of direct action. He said the circumstantial evidence is often the best evidence and compared it to the threads of a rope.
"One on its own it will give you no strength but if you begin to link them together you will have a strong rope," he said.
Judge McCartan also told the jurors that if they have doubts about any of the prosecution witnesses they must treat their evidence in caution. He said if a witness is complicit in the alleged offending there is a human tendency to push the blame away from themselves.
All three have been placed in custody pending sentence next month, despite strong objections by their respective legal teams.