Six months into her new fitness regime, bride-to-be Joanna Kiernan's training has changed her life and offered a welcome distraction from the pre-wedding panic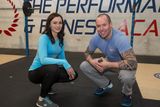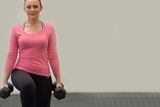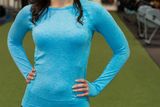 I am pretty sure that I was every PE teacher's worst nightmare as a kid; armed with a wide and colourful repertoire of excuses for not partaking, I became a dab hand in the art of avoidance.
Myself and a friend would take turns at arriving in last from running or simply walk the entire circuit chatting.
Even as I got older and more body conscious, I didn't like to sweat; it ruined my make-up. Had I known how much more confident and happy I could be with just a little effort, I would have dropped everything and started immediately. Hindsight is a wonderful thing and the practice of making excuses can be a very powerful, almost addictive habit.
A decade or so later, on the cusp of my 30th birthday last summer and 10 months before my wedding, the excuses stopped and the determination to actually do something about my abysmal lack of fitness, finally took a very firm hold.
Show me the woman who says she doesn't want to look and feel good on her wedding day and I'll show you a liar; add to this mix the fact that said bride-to-be is a socially awkward attention-phobe, who's prone to panicking - and the old motivation levels increase exponentially.
A little over six months ago, I trudged into the Performance and Fitness Academy, in Naas, Co Kildare, feeling massively unfit and unhappy, but almost too intimidated by what I perceived as a perma-fit cohort, who had all magically emerged from the womb with kettle bells in their hands, to understand the very logical process which lay ahead of me. This journey, my trainer Niall Munnelly assured me, would change how I felt about myself in both in body and mind and he was absolutely correct.
It has not been a quick fix; it has taken effort and determination to create steady, permanent and sustainable change and I have failed many times throughout; I have fallen off the wagon food-wise and I have missed training sessions along the way, but with Niall's support, I kept going.
Six months in, I am in the best shape I have ever been; my body fat has dropped from 24.9pc to 16.85pc and I have lost 5.7kg. I am getting stronger by the day and my hair, nails and skin are super healthy, despite the fact that I have neither the time nor the money to indulge in all of those insane beauty regimes that many bridal magazines will insist you begin in the lead up to your wedding day.
Getting fit and eating well, it turns out, really is better than any course of bi-monthly facials, body wraps or chemical peels and I kid you not, that shower after a strength and conditioning session feels better than any spa treatment I have ever had.
As the wedding approaches, training has even become a welcome and very necessary distraction. Amidst a sea of invites, centre pieces, ceremony details and my bridesmaids staging an all-out mutiny over their dresses (four months after they arrived!), using all of my mental and physical might to lift a heavy weight over my head at the Performance and Fitness Academy has become a Zen-like practice.
Even the bridesmaids' dress shopping (take two) has benefited from my new clearer state of mind - with everyone on notice that the bar for replacement dresses now simply requires that the garment A) fits their bodies and B) does not look disgraceful.
The only time the pre-wedding panic really seems to be seeping through very drastically these days is when I am asleep, with recurring dreams in which my teeth are falling out as I walk up the aisle.
In one dream last week, my aunt kindly stopped me halfway to the altar to ask why nobody had thought to tell me about the long beard, which I had apparently cultivated en route.
And there have been other particularly freaky, Inception-style episodes, in which my subconscious has really outdone itself by waking me up in a dream within the dream, so that I genuinely believe my teeth are no more.
Progression
It is a common anxiety dream I know, particularly during times of transition in life, but I'd like to think that psychiatrist Carl Jung's interpretation - that it symbolises the birth of something new - is also partly true in my case.
This has been a time of huge and monumental change for me; with what began as something quite superficial, flourishing into a process of so much more importance than I ever realised.
After years spent avoiding any sort of physical activity, I've now begun to enjoy the sweat, the warrior-like faces that I'm sure I pull (thankfully, there are no mirrors where I train) and the exhilarating sound of my involuntary screeching, as I push myself further and further than I have ever done before.
In two weeks' time, I will take part in my first ever CrossFit competition - the Irish Throwdown's pre-event at the Performance and Fitness Academy - and even now, weeks after signing up for it, typing those words fills me with sheer terror. However, if the last couple of months have taught me anything, it is that fear is not just manageable and inevitably surmountable, it can also be exciting and thrilling.
Apart from a couple of reluctant appearances at school sports days, I have never competed in anything sports or fitness related, so there will be no podium appearances at this competition, of that much at least, I am sure.
It won't be pretty and there may even be tears (who am I kidding? There will definitely be crying of some description), but it will get done and that is a world away from where I started out last June - afraid of everything and everyone, and completely unaware of what I was capable of.
Follow Joanna's fitness journey at Fit4aBride.wordpress.com Check out The Performance and Fitness Academy on Facebook at: www.facebook.com/The-Performance-and-Fitness-Academy-257985114224163 or on Instagram: @tpfacademy