FG's Keating leaves champ Eamonn in his wake as he races from door to door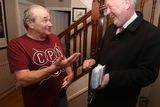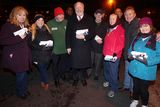 It's the last Monday evening before the election, it's cold and Derek Keating is running around like the Energizer bunny after one too many espressos.
The Fine Gael TD has called the big guns on to the streets, with the 24-strong group trying to deliver him back to his Dublin Mid-West seat.
Joining him on the evening canvass is former European and world champion middle-distance runner Eamonn Coghlan, himself now a senator.
"He's an old friend of mine," said Mr Keating.
Mr Coghlan has just returned from New York, where he attended a track and field event.
To watch the pair on the streets of Lucan's Colthurst estate, you would be forgiven for thinking that Mr Keating was the former champion.
"Slow down, Derek, take your time," Mr Coghlan said as the candidate stormed up the street to knock on more doors.
"Sorry," came the over-the-shoulder reply.
Mr Keating has to be warned at one point to be careful of oncoming traffic as he steps on to the road.
"Remember everybody - 30 years of service, accessibility and Ireland's first post office with a wheelchair ramp," Mr Keating said to the troops.
Among the issues that come up on the doorsteps are water charges, public sector wages and healthcare.
Disabilities
The TD is keen to stress the importance of the post office he championed for the area.
It's a quintessentially local issue.
"Issues for people with disabilities are very close to my heart," says Mr Keating.
He tells the story of a woman who once came to his constituency clinic, which is located near the post office.
"She was a wheelchair user and thanked him profusely for the access ramp.
"She said to me she could get up the ramp easily and not have to pull herself out of the chair," he said.
"It's not just from the point of view of the customer, but also for employment in the post office."
In many of the homes, the appearance of Mr Coghlan - who took home gold in both the World Championships 5,000 metres in 1983 and the European Indoor Championships 1,500m in 1979 - is enough to draw a smile and a positive reception.
In one instance, the athlete - a popular figure in the area - is called on to rescue the situation when a constituent claimed he had contacted Mr Keating for help with an issue, but to no avail.
"I called you a number of times, Derek, and you didn't help me," the man said, before Mr Coghlan's interjection.
"I had to defuse that situation," Mr Coghlan said after the man calmed down.
While he had Mr Coghlan helping him to press the flesh, Mr Keating was keen to talk about his passion for running.
"I did three-hours 54 minutes in the marathon in 1992, and I'm very proud of that," he says.
If the polls are to be believed, Mr Keating faces a gruelling uphill section in the race to be re-elected to the Dail, where his party colleague Frances Fitzgerald looks likely to secure a seat.
There is no doubt he is popular in the area. His impatience to get from door to door was not a trait that carried into his discussions with constituents.
Teacher and mother Caroline Tighe said there were a number of issues she was concerned about. "Before, local issues were the big thing for me, but now it's the big issues," she says.
"It's about money in my pocket for the work I'm doing."
She said that as a teacher she felt her hard work was not being rewarded, and that due to a middle-management freeze she cannot secure promotion.
She was also angry about the water taxes, and said she had been unable to afford to visit the dentist.
Mr Keating listened intently, but was firm on his insistence that the taxes are required.
Insane
"Socialists are taking to the streets to protest a property tax. It's insane," he said.
In the end, Ms Tighe wished Mr Keating the best in the election and responded positively to his persuasion.
"If I get re-elected I promise you this, this conversation will not be lost on me," he said.
For many of those canvassed, the fact that Mr Keating had knocked on their doors in the first place was a positive.
"You're the only person who has bothered to call in and I respect that," one woman said, and the sentiment was repeated several times over the two-hour operation.
However, a number of constituents politely took a leaflet and said nothing, while a signif- icant minority choose not to open the door.
George Gregory told Mr Keating he was happy with the work he was doing for the area.
"Derek has done a lot for the people here," he said, adding that his main concern in the election was the water charges.
David Fortune, who said he does not vote on party lines, nevertheless admitted he was another supporter.
"I've contacted him a few times and he has always come through," he said.
"We had a problem with dumping on the green area and some other things.
"Actually, I have his number in my phone. I will be voting for Derek, yes."
Taxi driver Shane Carroll told Mr Keating his main issue was that self-employed people were not entitled to benefits.
He was also concerned about new taxi app Uber taking work away from full-time taxi drivers and the possibility of dangerous drivers who were not vetted.
At the end of the night, Mr Keating thanked his campaign team and they all huddled together for the obligatory post-canvass selfie.