Fermanagh star Tomás Corrigan: We're not going to make up the numbers in quarter final clash with Dubs
Nobody will give Fermanagh a hope against Dublin ... that won't bother new talisman Tomás, who says sport is 'all about winning'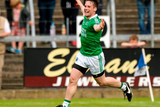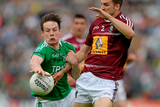 When Tomás Corrigan dinked that audacious lob over the colossal frame of Gary Connaughton on Saturday evening, he announced his talent to the rest of Planet GAA, not just the Fermanagh diehards who know him well.
Seán Quigley was perceived as the forward talisman propelling the Ernesiders' odyssey through the qualifiers, but all the talk this week will be about his diminutive partner-in-pillage.
Even more so now that the so-called minnows of Ulster football are facing Goliath in Sky Blue. Dublin are 1/200 with Paddy Power - marginally less prohibitive than the 1/500 they were before the Leinster final against Westmeath.
The perceived wisdom is that Fermanagh should simply embrace the occasion that is next Sunday's All-Ireland SFC quarter-final because this is where the dream dies; where reality bites romance in the jugular. Yet, talk to Corrigan and you'll soon discover a player who has no truck with talk of moral victories.
"You can't beat the winning feeling," he declared, fresh from blitzing Westmeath in last Saturday's round 4A qualifier at Kingspan Breffni Park.
"Like, we've had some barren years in Fermanagh. To be honest, we're just soaking it up … but you can see how much the win means to Fermanagh people."
And to Corrigan himself. The ecstasy that every forward feels after scoring a goal was written all across his face following the sublime chip that crowned his tour de force against Westmeath. "The little dink - I don't know where that came out of, because I would never do that any other time! I'd normally just fist it over," he admitted.
That brought his tally to 1-7: not half-bad for a player who didn't start scoring until the 33rd minute. Almost as crucial as his two eye-catching points from play, to kickstart Fermanagh's revival, was his flawless free-taking (five from five) having assumed the role from the strangely misfiring Quigley.
So will he keep the job on Sunday? "We'll talk about it at training on Tuesday and see," he said. "Sean's been hitting them very well all year, so it's good for Sean that he knows that if he's not just striking them well … it's good for the team to know that there's someone else can step up and kick them."
Steeped
The Corrigan clan is steeped in Fermanagh football: his father Dominic is a former player and manager with the county while younger brother Ruairí delivered a productive 40-minute cameo off the bench last weekend.
Given that family background, it's fair to surmise that Tomás Corrigan, who turns 25 on Saturday, knows all about the hard-luck stories associated with one of only two counties (Wicklow being the other) never to win a senior provincial football title.
"We've had more moral victories than anyone in Ireland, and it just gets to the stage where they're useless. You're sick of them," he declared.
"You're sick of getting a pat on the back. You put in too much effort to just get a pat on the back. It's about winning - sport's about winning. You know, that's something that we've set out since the start of the year. We just target every match and we aim to win it. Coming up short just won't do any more."
But how does he respond to the argument that Pete McGrath's squad has now reached its target - football in August - and should simply enjoy the day, if that's possible, against Jim Gavin's juggernaut?
"We're used to no one giving us a hope," countered the Kinawley clubman. "We went to the league final (against Armagh) - no one gave us a hope. We played Roscommon - no one gave us a hope.
Vibe
"It's familiar territory for Fermanagh, so we're well used to that sort of vibe. We'll definitely not be going to Croke Park to make up the numbers. Sport is about winning, and we'll be aiming to win."
Back to outside perception: the very fact that a Division Three side from Ulster would end up playing at least twice in Croke Park this season will strike some as far-fetched. Not Corrigan.
"At the start of the year that's where we said we wanted to be, so I wouldn't say it's surreal. It's very satisfying knowing that you've reached your targets," he reflected.
"Let's not be foolish about it, we're in bonus territory now. But there's absolutely no reason why we can't go to Croke Park and give a good account of ourselves."