Fanning optimistic Dublin will show true colours in Thurles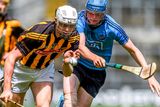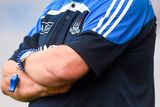 DUBLIN will look to bounce back from the disappointment of their provincial final loss when they face either Limerick or Waterford in their All-Ireland MHC quarter-final in Thurles this Sunday afternoon (12.0).
The Dubs produced a less than impressive performance when losing to Kilkenny earlier in the month, with the 2-19 to 2-10 scoreline failing to adequately reflect Dublin's travails on the day. There were admittedly mitigating factors in the form of injuries to key personnel in Shane Barrett and Paul O'Dea but the flatness of the display in Croke Park last Sunday fortnight is still a concern to team manager Pat Fanning.
"I still cannot comprehend or explain what happened to us against Kilkenny as I thought that the lads were primed to give a quality performance," said Pat.
"The preparations beforehand were exactly what I hoped they would be but for some unknown reason, it just didn't lead to a display from the lads.
"I have racked my brains looking for reasons why that was the case but to be honest, I think it's something that I'll never be able to put my finger on," said the Na Fianna clubman.
That Dublin need an improved display on Sunday goes without saying, especially considering that they will face either the current holders or the All-Ireland favourites in Semple Stadium.
Fanning was in Páirc Uí Chaoimh nine days ago to run the rule over the drawn Munster Final and he has a healthy respect for the relative merits of both counties.
"I thought that the quality of the Munster Final was quite high and both teams looked in good shape," he says.
"Both sides had opportunities to win on the day and even if we didn't know beforehand the severity of the task awaiting us, then we certainly do now.
"Having said that, I didn't see anything in either team that would make me fear their challenge, so long as we manage to produce a performance in keeping with the potential that we undoubtedly possess in our panel," Fanning added.
If Dublin are to progress beyond Sunday, a clean bill of health is essential to their chances but Fanning is still fretting over the well-being of a number of his panel.
Matthew Oliver was already ruled out prior to the Leinster Final while his Na Fianna clubmates Barrett and O'Dea are still struggling to rehabilitate fully from the knocks that forced their replacement against Kilkenny.
With or without their participation, Dublin are likely to make alterations from that Leinster final line-up and Fanning remains optimistic that Dublin will show their true form in five days time.
"The lads have bounced back well in training since the disappointment of the loss to Kilkenny and their attitude has been exemplary," he added.
"I don't think there are any doubts that we will look to make changes for Sunday as the substitutes did well when introduced the last day and it is a chance for redemption for most of the panel next weekend."