Family's joy as Sean (7) returns home eight months after being shot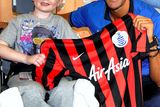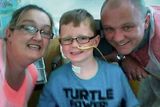 The Dublin schoolboy left paralysed when he was shot playing on a green area is back home eight months after the attack that shocked the nation.
Sean Scully (7) has undergone extensive treatment at the National Rehabilitation Hospital in Dun Laoghaire after having his spinal cord damaged in the shooting outside his Cherry Orchard home on June 13 last.
He had been playing with friends yards from his house in Croftwood Grove when a gunman opened fire at another man but missed him, hitting Sean in the back.
He was rushed to Our Lady's Hospital for Children in Crumlin where he underwent emergency surgery, but the damage done by the bullet proved permanent.
The St Ultan's junior school pupil now users a wheelchair after being paralysed from the chest down.
But after bravely dealing with his injuries and learning to cope with his situation Sean was allowed home last week.
"We're just glad to have him home and get him back in some sort of routine.
"It's a different normal," Sean's mother Gillian said.
The Scullys will have to adapt their home for Sean, and he has been getting back to his first class pals on a phased basis for the past few months.
The gunman who shot him has not been arrested, and detectives investigating the attack say they are being hampered by a lack of information.
In the aftermath of the shocking attack, gardai from Clondalkin Garda Station said they believed people were going from door to door intimidating others to keep quiet.
support
They appealed for residents to come forward and speak anonymously.
Sean's aunt, Denise Scully, thanked the local community for their support since he was shot.
"A lot of people have helped out and we want them to know we fully appreciate that," she said.
hnews@herald.ie