Family of first-date stab victim Keith thank supporters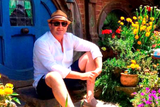 The family of slain Finglas man Keith Collins have said that they are "humbled" by the support and kindness shown to them in the days since his tragic death.
His sister Audrey Jenkins has thanked people in an emotional message on social media, alongside a snap of flowers given to them by well-wishers.
Mr Collins died after he was stabbed during a first date in the Kangam BBQ restaurant the Westfield Hornsby shopping mall on Wednesday evening in Sydney, Australia.
It is understood that single dad Keith met Jovi Pilapil, a care nurse and also a single parent, on a dating website.
Sinister
The date took a sinister turn however when Ms Pilapil's ex-husband, Alexander Villaluna, allegedly stabbed the successful businessman in his neck and chest. Ms Pilapil was also stabbed but managed to escape to an upstairs shop where she collapsed.
Mr Collins' sister Audrey Jenkins has thanked the public for their support in the days following her brother's murder.
"Seriously cannot even begin to find words to say how grateful we are for the beautiful, loving and caring people in our lives," she said on social media.
"[We are] so humbled by the kindness as we try to navigate the loss of Keith. We feel enveloped in your love, from visits, to phone calls, messages, flowers and everything else - just know that we are truly grateful and your love is so comforting."
Meanwhile, players at the rugby league club where Mr Collins was once a president and junior coach will pay their respects to him today.
The Terrigal Wamberal Sharks Junior Rugby League Club have asked that all of their players wear black armbands as a mark of respect for Keith (53). It was also decided to hold a minute's silence before one of the youth games.
The Collins family are originally from Finglas but emigrated to Australia in the 1960s.
Dramatic footage from the moments after the harrowing attack show Villaluna being arrested after the fatal stabbing.
The 44-year-old was later charged with murder and attempted murder and will appear again in court on May 26.
Australian police told reporters that Ms Pilapil is recovering after minor surgery.
Investigators are gathering statements from some 50 witnesses and also examining a substantial amount of mobile phone footage of the killing.
Tragedy
The tragedy is the second to hit the family in recent years.
Mr Collins' adult son Aaron was killed in a road accident in 2013, aged just 23. The family will mark the third anniversary of his death next Tuesday.
Keith Collins' daughter, Aisling, has also paid an emotional tribute to her popular dad, saying: "I love you more than anything dad, I'll forever be your girl no matter what."