Families remember the fallen of WWI in portraits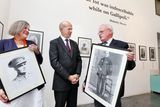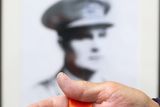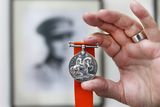 Families of Irish soldiers who fought in WWI have spoken out about the struggles their relatives faced both on the battlefields and when they returned home.
They described their relatives' struggles at Portraits of the Invisible photographic exhibition launched by the National Library of Ireland.
One Irish soldier who fought in a British uniform was Charles Budd.
INVENTING
He served in the Royal Army Veterinary Corps before the War and received an MBE medal for inventing a mechanism to train soldiers how to place a shoe on a horse without practising on live animals.
His granddaughter Carole Budd Cullen, told the Herald how important her grandfather's story was to her family.
"I feel incredibly proud… to me it was kind of interesting when I was younger, but I really appreciate it now and it's really important to my family," she said.
Brian Meyer, from Dalkey, was also "very proud" of his cousin twice-removed, Frank, who fought for the Canadian Army in Flanders, Belgium.
"Frank and his regiment were some of the first troops to be subjected to chlorine gas and was interned in two different prisoner of war camps during the War.
"He survived but was always traumatised by his war-time experiences," Brian said. Brian visited Flanders last year and described it as a "very moving experience".
Relations between Ireland and Great Britain have "matured a huge amount [since the War] and we're now kind of best of neighbours," the British Ambassador to Ireland, Dominick Chilcott said.
Portraits of the Invisible runs until January 2016 in the National Photographic Archive, in Temple Bar.