Ex-SF activist arrested over TD office attack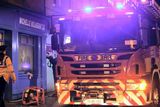 By Philip Ryan and Caroline Crawford
A FORMER Sinn Fein activist was arrested by gardai investigating the arson attack on Mayo TD Michelle Mulherin's constituency office, the Herald can reveal.
Ms Mulherin's office was set alight on Tuesday evening amidst controversy over calls she made to Kenya using her taxpayer-funded Dail phone.
Gardai arrested a former Sinn Fein party member soon after the attack.
He was released from Ballina Garda Station without charge and a file has been sent to the Director of Public Prosecutions.
It is understood he actively worked with the party in the nineties but left more than a decade ago.
Ms Mulherin's office suffered minor damage, but the fire brigade service and gardai were called to the scene.
Shaken
The Fine Gael TD was shaken by the incident but was thankful none of her staff or constituents was in the office at the time.
Taoiseach Enda Kenny said he was "appalled" by the attack on his constituency colleague's office.
The attack came hours after Ms Mulherin repaid the Houses of the Oireachtas €2,000 for telephone calls she made to her friend Danson Kole, who lives in Kenya. However, she denied it was inappropriate to make the calls and insisted they were work related.
She said Mr Kole was a "political confidante" and they were discussing newspaper reports about their relationship.
The deputy asked Ceann Comhairle Sean Barrett to establish if she broke any Oireachtas rules by making the calls.
Yesterday, she called for a Skype facility to be installed in Leinster House to avoid future controversies over expensive telephone bills clocked up by politicians.
She also said a warning system should be put in place to alert TDs to potentially high telephone bills.
"I'd love if there was a system in place where there was an alarm bell or system that would notify people if there are high tariffs on particular calls or even a Skype facility within Leinster House," she told the Herald.
Ms Mulherin's telephone bill first emerged in Freedom of Information documents obtained by the RTE's Investigation Unit.
Her calls were among a number of calls to foreign countries made by TDs and senators. Details of who made the calls are not kept for confidentiality reasons.
Politicians are permitted to make long-distance calls on their Dail office telephones.
hnews@herald.ie