Ella Griffin: I dropped out of college, went to Holland for a party and stayed for two years'
Novelist Ella Griffin tells Joanna Kiernan about life, love and being in the right place at the right time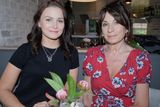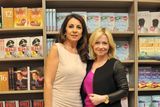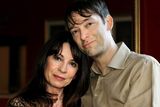 Some people have an innate ability to make you comfortable in their very sincere and engaging presence - author Ella Griffin is one such individual. In fact, as we settle in for our chat in the lovely Clodagh's Kitchen Blackrock, I almost forget we are here for an interview.
In her latest novel, The Flower Arrangement, Ella seamlessly weaves intertwining tales of love, loss and humour; lights and darks, quirks and conformity, and Ella is just as intriguing as her carefully crafted characters.
The youngest of six children, Ella grew up in Goatstown.
"I don't think I was mollycoddled. I've four brothers and one sister so my sister might have a little bit, but boys don't tend to do that," she smiles. "My brothers are a lot older than me, so I grew up with adults and they were very articulate, so I was always surrounded with really interesting conversations and opinions and really amazing use of language."
Ella's parents were both teachers. Her mother taught in Mount Merrion and her father in Milltown before going on to posts in the teachers union and the Irish Congress of Trade Unions.
"They were both wonderful people," Ella smiles.
Writing has always been a passion for Ella.
Ella and Cathy Kelly
"Ever since I was a very small child it was something I have really delighted in doing," she explains. "It's that typical thing where Maths and Science subjects were such a chore for me and English was always something I was really drawn to - I was always writing things down and making up poems and things like that.
"I remember the first book I got that wasn't a picture book was Enid Blyton's Brer Rabbit. I remember leaving it until last at Christmas because it didn't have any pictures and then eventually starting to read it and just feeling completely transported. When I was small I really wanted to write, but being kind of bored when I wrote anything because I knew the ending," Ella laughs. "I wanted to be reading and writing at the same time, but I got over that."
After primary school, at Mount Anville National School, Ella attended Muckross Park College.
"I think a big thing, and it's funny I only realised it the other day, was that my mum enrolled me in speech and drama lessons when I was about 10 or 11 and I think that was huge," Ella tells me.
"It really made me excited about dialogue. My mum was also a great reader - I can remember reading all of her library books. The house was full of books for adults, so I was reading F Scott Fitzgerald when I was 12 or 13."
At 18 Ella went to UCD to study English.
"I did not do well at college," she announces softly. "My father died suddenly when I was 18, but I don't think I would have done well at college even if he hadn't.
Ella and her husband Neil who she met in Greece
"I wanted to study English and I expected it to be 20th century English with wonderful stories, but it was right back to all the old English with all of the double Fs and Chaucer and poetry from the 16th century. It was just terribly dull. So I really hated it and I ended up dropping out of college and going off to live in Holland for a couple of years."
Why Holland of all places?
"I went for a party Joanna," Ella laughs as a wild little twinkle appears in her eye. "My friend Paul was living there, so I went over for a couple of weeks to stay with him and to go to a party and I ended up staying two years."
Ella lived in the student stronghold of Delft, which was a welcome break from the 1980s recession-stricken Ireland she left behind her.
"I loved it. Ireland at that time was just so dull. There weren't very many opportunities when you were in your early 20s. There was really nothing for young people," Ella explains.
"I had a great time. I worked in a dark room, even though I was afraid of the dark, for Kodak," she laughs. "I typed theses for African students and I would correct them into proper English and they would change them again, I counted traffic at one stage with a little clicker and I worked in an engineering company as a Telex operator. It was fun, but I did start to worry because I had dropped out of college and I thought I wasn't going to have a career."
Once she came back to Ireland, Ella enrolled in a creative writing course and soon found herself working in advertising as a copywriter, which she continues to this day.
"It's very creative and it's a lot of fun. I think a lot of copywriters are people who would love to write and in a way I think the copywriting is a double edged sword - it gives you confidence because you are writing, but at the same time it gives you an excuse not to actually start writing your own stuff," she smiles.
"It's all about habit, I think very often we put things in front of ourselves. Maybe it's self-sabotage, maybe it's some sort of strategy, so that we don't put ourselves on the line and it is difficult to put yourself on the line."
Eventually, however, Ella decided to follow her dream of becoming a novelist and began writing her first book Postcards From The Heart which was released in 2011 and was quickly followed by a second, The Heart Whisperer, and her third novel The Flower Arrangement released last month.
"Although I always wanted to write, I never told anyone that," Ella tells me. "I was too embarrassed about it, having such an ambition and too frightened about it. So I continued writing myself really only because I couldn't not do it."
Ella's confidence took a turn for the better in her mid-30s when she joined a creative writing class by Dorothy Coppinger in UCD.
"Dorothy was an extraordinary woman. She worked using what's called the Pat Schneider method, which was this really egalitarian form of writing where the teacher and everyone else would all write in the class and it was as much about self-expression as it was about crafting.
"So, she would do amazing things like come in a scatter postcards all over the floor and say everyone pick a postcard and write about it for 20 minutes. One day she gave us all a sheet of toilet paper," Ella laughs.
"Initially, it was very scary, but it became a really beautifully supportive group. You also weren't allowed to criticise, so if you did read out your work, people would give you feedback and it could only be positive feedback. That created a really safe and nurturing environment.
"I think a lot of conventional writing classes don't encourage people because you are asked to critique each other's work and you are all novice - it can be hard to have your work critiqued."
Ella followed up this class with a number of writing holidays to the Greek Island of Skyros. On her third such trip, she met her husband Neil.
"I met my husband, by mistake," Ella smiles. "It's the last place in the world you would go to meet a man because on the previous two courses, there were always about 30 to 35 women and two or three men. And it was the same that year, but two weddings came out of it, my friend Deborah met her husband and Neil and I ended up getting married too. So we met in a writing class."
However, Ella almost cancelled the trip. "My mum had died the previous year and I was really stressed," she explains. "A friend suggested I do some Reiki, which I did and that helped a lot.
"It was on foot of that I decided to go back on my own again to this writing course. It was right after 9/11 and I was really frightened going, but I am so glad I did. Neil encouraged me to start writing properly.
"He's English and so he was living in Richmond and I was living in Dublin when we came back and we were doing weekends backwards and forwards," Ella explains.
"It was wonderful because it was so exciting and unexpected.
"It felt as though my life just completely turned in another direction and it has felt like that ever since.
"We met in 2001 in October and we were engaged by April the next year and we got married in 2004. We both knew very quickly," Ella smiles.
Ella's third novel, The Flower Arrangement, published by Orion, is out now.