Dublin Zoo 'mourns' loss of 109 animals in two-year period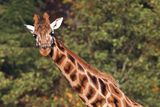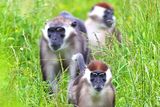 More than 100 animals died at Dublin Zoo in a two-year period between 2014 and 2016.
They include a number of critically endangered species that are extinct or nearly extinct in the wild.
Among the 109 animals to die were a southern white rhinoceros, two Rothschild's giraffes, three grey wolves and a red panda.
Rothschild's are one of the rarest species of giraffe, with only an estimated 1,500 left in the wild. The 68 animals that died during 2015 included seven that were temporarily on loan from other zoos.
Details of the deaths at one of the State's most popular visitor attractions were contained in records obtained under the Freedom of Information Act.
Documents submitted by Dublin Zoo to the National Parks and Wildlife Service (NPWS) as part of its licence application show that 13.4pc of its animal population died in 2015.
In 2014, two African hunting dogs were in Dublin on loan from another zoo.
These are endangered, with a population of about 6,000 left in the wild.
Both dogs died at the zoo in Phoenix Park.
Rigorous
Three red-capped mangabeys - a red list endangered species of monkey - died at the zoo during the same year, while an African spurred tortoise, which can live for more than 150 years, also died.
A spokesperson for Dublin Zoo said the facility undergoes rigorous inspections each year, and the latest inspection by the NPWS resulted in a number of positive comments in relation to habitat design, staff and other areas.
"Animal care and wellness are at the core of Dublin Zoo. The physical and psychological wellbeing of animals in our care is the number one priority," the spokesperson said.
"Ensuring every animal lives out its life to the full is paramount to Dublin Zoo.
"However, as in the wild, animals die in the Zoo.
"In every situation, the best of veterinary care and attention is given. We mourn the loss of every animal."