Dublin boss Jim Gavin warns: There's no back door and that brings pressure on both sets of players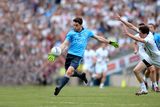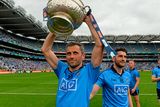 IN instances of Goliath espousing the virtues of David in pre-match GAA press conferences, it's often a hard ask for the big man to successfully walk that tightrope between issuing adequate handfuls of respect, whether justified or contrived, and being just plain patronising.
So often have Dublin been screaming favourites for Championship matches that Jim Gavin is a dab hand at this sort of craic now.
When a team qualifies for an All-Ireland quarter-final, though, their respect stock rises naturally.
And throw in Gavin's legendarily detailed briefs of Dublin's next opponents, replete with names, positions, League performance, scoring tallies etc. and you've got yourself a sturdily-constructed argument that Dublin need to watch their backs on Sunday.
"It's a fantastic achievement for them to be so competitive. I know from a club perspective, they have less than 20 clubs.
Achievement
"Compare that to Dublin.
"That's just being realistic about it," he pointed out.
"That's why it's a fantastic achievement what Pete McGrath has done with the team.
"Obviously the work they've put in in the season and obviously, how they're playing their football."
As it happened, Gavin was in Thurles to watch the Cork v Kildare match at the time Fermanagh beat Westmeath, presumably in anticipation that the former would win and thus play Dublin in the quarter-final.
He wasn't he only one.
Éamonn Fitzmaurice went the opposite way to Breffni Park to see Fermanagh, though it's unlikely they swapped notes.
"A team that has played with a lot of structure," is what Gavin uncovered eventually, when he poured over the tape.
"That's the way (Pete McGrath) has this Fermanagh team playing and with a lot of structure in defence.
"They are very composed on the ball and they pick their moments to attack and they have been very fruitful in doing that.
"Their Division Three record and promotion speaks for itself and the way that they have dispatched Roscommon and more recently Westmeath was quite impressive."
Impressed
"A lot of work was done over the last few days researching Fermanagh," Gavin explained.
"They haven't come across our radar before. We have been very impressed with what we have seen."
As Gavin pointed out: "They finished strong in that last ten minutes and then put Westmeath to the sword quite early in the second-half so that attribute is consistent."
"It's the last eight," Gavin added.
"It's winner-takes-all now. There is no back door. That brings its own pressures on both sets of players.
"It's a space that we're quite accustomed to and we're quite comfortable in."