Dublin baby Kian Bourke is Ireland's first born in 2015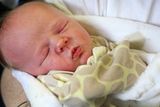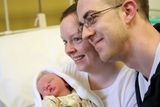 The first baby born in Ireland in 2015 arrived at four seconds past midnight in the Rotunda Hospital in Dublin.
Baby Kian Anthony Bourke was the first tot born in the country this year, arriving two weeks earlier than expected.
His excited mom and dad Jennifer and Karl Bourke from Artane in Dublin said their 7lb 4oz bundle of joy really started kick started their new year.
"He's not even 12 hours old and everyone is talking about him," said his mom Jennifer holding the new arrival in her arms.
Perhaps the most excited was Gemma Bourke (7) who begins 2015 as a big sister to baby Kian.
"Kian really started off 2015 with a bang," said dad Karl.
This is the first year in many that Rotunda Hospital welcomed the first newborn of the New Year.
In Dublin, a close second was the arrival of Sinead Dormer's little girl Ellie in The National Maternity Hospital at Holles Street.
The second time mum welcomed the little one 17 seconds after the clock struck 12am and she weighed 7lb 14oz.
At University Hospital in Limerick, the first baby of the new year made an appearance at 16 seconds past midnight.
"We had one very disappointed mum who had her baby at five to 12 last night," said Mary Tevlin Clinical Nurse Manager at the hospital.
It was a slow night in Cork University Maternity Hospital as the first baby boy born in the rebel county only arrived at 1:02am.
Meanwhile, Xposé star Karen Koster welcomed what must have been one of the last babies of 2014, as she gave birth to a little boy, Finn on New Year's Eve.
The presenter's proud husband John McGuire made the exciting announcement on Twitter.
"Finn McGuire arrived today New Year's Eve 2014," he wrote.
"That's his minor career in Rugby & Gaelic ruined! Beautiful Mum and Finn absolutely great!"
Karen began her six month maternity leave from TV3 earlier this month after presenting the channel's first Christmas Toy Show with Brian McFadden.