Driver in serious condition after van smashes into house opposite Beaumont Hospital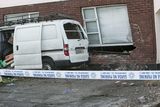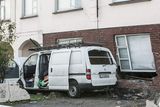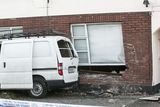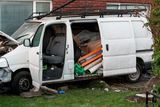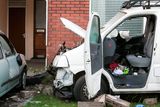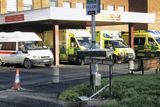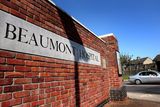 A MAN is in a serious condition in hospital today after a van he was driving smashed into a house opposite Beaumont Hospital in Dublin.
The van appears to have left the hospital grounds and struck the house on the opposite side of the road to the main entrance.
The accident happened at 3am, leading to significant damage to the house.
As day broke the evidence of the sequence of events became apparent.
Failed
Skid marks beginning at the traffic lights across the road indicate that the van had left the hospital grounds but failed to make the turn at the
T-junction outside.
The damage at the house this morning
The van then crossed the main road and demolished a small wall separating the gardens of two properties, and then continued up the driveway of one of them.
As it lost control the van turned sideways and smashed into the house side-on at the driver's side.
The van then carried onwards after the initial impact and ended up in a neighbour's garden, crashing into a car parked in the driveway there.
The 07 Cork-registered Toyota Hiace was carrying carpets and carpet fitting equipment at the time of the crash.
The airbag deployed on impact but the driver sustained serious injuries.
The brickwork surrounding the main living room window of the house was smashed and pushed inwards on impact, loosening the window frame and breaking the glass.
Dublin Fire Brigade reported that the victim was taken by ambulance the short distance back to Beaumont Hospital where his condition was described as serious today.
The cause of the accident is not known and an examination of the scene was due to take place today.
A section of Beaumont Road was closed for a time while emergency services worked at the scene.
It is believed the house was unoccupied at the time.