'Doctor in me can make me seem insensitive', admits Leo as manifesto unveiled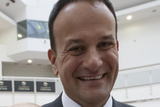 Kevin Doyle and Philip Ryan
Taoiseach Leo Varadkar has suggested his previous career as a doctor is to blame for his perceived lack of empathy.
The Fine Gael leader has been criticised for displaying a lack of emotion about the housing and health crises.
However, he says this is down to him being "blunt and straight talking" which can "come across as a bit insensitive sometimes. I understand that".
However, he said his partner, Dr Matthew Barrett, believes the accusations that he lacks empathy are unfair.
"I was actually talking to Matt, my partner, about that the other night and he said, 'Like that is so wrong and that's so unfair'," Mr Varadkar told Independent.ie's Floating Voter podcast.
"Every evening when I'm home I'm talking about all the problems of the day and the struggles to get on top of those difficult issues like homelessness and overcrowding."
Blood
The Taoiseach said Mr Barrett also told him: "You really do care but you know it's the doctor in you.
"You want to get in there quickly and you know fix the problems, stem the blood."
He also accepts he does not take criticism very well and can be overly defensive when questioned about human tragedies.
"I think anyone when they're being criticised or when they're being attacked, they're going to be a little bit defensive sometimes, so I think that's probably a fair criticism," he said.
"I hate to hear people dismiss facts and figures and statistics as if they don't matter. The core behind truth is facts and figures and statistics."
Mr Varadkar also accused other parties of targeting Eoghan Murphy and Simon Harris with "nasty" personalised attacks - although he still won't guarantee their jobs in Cabinet if Fine Gael wins the election.
The embattled ministers have been the focus of public ire, yet Mr Varadkar says they remain "in good standing".
The Taoiseach has revealed he hopes to reappoint Simon Coveney and Helen McEntee to their Brexit-related portfolios - but no other minister is safe.
He also said he will not make any further concession in the battle over pensions that has engulfed the election campaign.
People who are forced to retire at 65 will be €3,100 worse off under the Fine Gael's plan than if they vote for Fianna Fail.
However, Mr Varadkar said: "We're not going to get involved in an auction on this."
Fine Gael and Fianna Fail both launched their election manifestos yesterday, which included multibillion-euro promises on health and housing.
The parties pledged to prioritise public spending over taxation in the ratio of 4:1 if they lead the next government.
Fianna Fail leader Micheal Martin unveiled commitments including the hiring of 4,000 new nurses and reductions in capital gains tax and USC rates.
Mr Varadkar said Fine Gael's manifesto prioritised the "squeezed middle" by offering a significant increase to standard rate income tax band - from €35,300 to €50,000.
The leaders also made their definitive pitch for the so-called 'grey vote', with Fine Gael set to press ahead with raising the retirement age to 67 next year.