Distin: It would be childish of me tosettle 'leg breaker' score with Suarez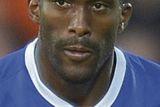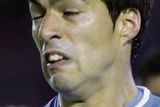 Everton defender Sylvain Distin is not be looking to settle a score with Liverpool's Luis Suarez today as he believes playground-style retribution has no place in the 221st Merseyside derby.
In the corresponding fixture at Goodison Park last season, the Frenchman was angered by a tackle from the Reds striker, suggesting it could have broken his ankle.
Everton boss at the time David Moyes felt it was worthy of a red card – Suarez was shown only a yellow – describing it as "over the top, down the back of the leg".
The lunchtime kick-off will be the first time Distin and Suarez have faced each other since as the Uruguay international was suspended for the return encounter at Anfield in May.
But the Everton defender only has eyes for a good result.
"It is part of the football. Some players are like that, you need to accept it," he said.
"I don't think I have had many incidents like that in my career so you obviously remember it but I don't need anything to motivate myself.
"I am professional enough and I love the competition enough to find motivation with different things rather than someone who tackled me badly a year ago.
UNLUCKY
"It doesn't affect me and I don't think about it. As a player, if you try to remember things like that all you want to do is give (something) back and by giving back all you can get is a yellow card if you are lucky or a red card if you are unlucky.
"All it would do is penalise my team and I am not looking forward to that. I want to be on the pitch, playing the best I can.
"I am not 16 any more and I don't feel the need to prove, 'If you kick me, I'm going to kick you back'.
"You do that at school, not on the football pitch."
The Merseyside derby has a history of red cards – 20 in 42 Premier League meetings and 11 in the last 17 clashes.
Distin has always given the impression of being an oasis of calm amidst the hurly burly and he said it is just a question of learning to keep things in check.
"The emotion will always take over, even if it is not a derby," said the 35-year-old.
"In any game no matter who you play – it could be a cup game against a Conference team – emotions are part of the game.
"You have to learn to control them and use them in your favour."
What Distin admits he struggles to get to grips with are the tricks and gamesmanship of opponents and how the rules appear to have swung definitively in the attackers' favour with an increasing number of incidents in the penalty area resulting in a spot-kicks.
DIFFICULT
"It is getting very difficult to defend," he added. "Sometimes I watch on television and everyone agrees it is a penalty because the striker has run straight into the defender and falls on the floor.
"As a defender I'm thinking, 'What are you supposed to do, move out of the way and let him pass'? I don't get it.
"If it was the other way around with the striker doing that to the defender and the defender falls on the floor rarely is it a free-kick.
"Sometimes I feel like, 'How do you defend'. If you put your leg across, even if you don't touch the striker if he falls it is a penalty.
"You can see defenders defending with their arms behind their back – it is impossible because you can't tackle like that, you need to balance your body with your arms in the air but if the ball hits you it's a penalty.
"What do you have to do to defend now? It is getting very difficult.
"Maybe it is for the benefit of the game because we see more goals but as a defender it is a bit frustrating.
"I have been in England for 12 years now and I remember a time when a fair challenge was just a fair challenge and now it is different."