Derek McGrath: We will have no excuses if Dublin beat us
Waterford boss McGrath says he's confident his team wont be derailed by their first defeat of the season in the Munster final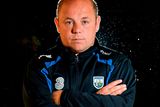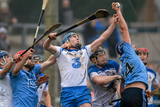 As it happened, when Ger Cunningham began the process of rebuilding his team from the rubble of Galway's brutal blitz in Tullamore, the first side they played in a nothing challenge match was Waterford in Nowlan Park.
Liam Rushe played centre-back.
Conal Keaney started on the wing but moved forward and grew in influence the closer to the Waterford goal he lurked.
And so the team that stumbled over Laois and struggled past Limerick was born against Waterford.
"They ran through us," recalls Derek McGrath now. "They ran amok against us.
"It looks that they have reverted back to what was best for them last year.
"But I think that Ger has made sure that everyone has got a chance in every position and there's a fluency there now and an ability to adapt to every position.
"That makes them very dangerous ahead of the game on Sunday, that ability to adapt to any position.
"They beat us well. We know what we're facing. To me - and it sounds very clichéd and it sounds like I'm trying to be cute - but it's certainly 50/50 at best."
COPE
Which many feel is true.
Dublin are more experience but Waterford are having easily the better year.
The plus side of going unbeaten until two weeks ago is having a league title to show and a group of young players high in confidence and comfortable with this way in which Waterford play.
The potential downside is not knowing yet how they cope with defeat.
"We have tried to pre-empt that all year," McGrath acknowledges. "That because we were on such a run, we were nearly trying to prepare them for when we would have a defeat.
"So we're okay, I think, in that regard. We had almost prepared for it. Not that we were trying to be negative but we knew there would be bumps along the road.
"We have surpassed most people's expectations anyway. So there are a certain sense of … we've done very well so far, to be honest.
"And there is an acceptance amongst the group that … not that we're over achieving, but we're doing our best in every match.
"So whilst there is ambition there, there is no real over analysis of each game. The reality is that we did quite well.
"And whereas last year, following defeats to Kilkenny and Clare in the league, you could say there were psychological scars because we were basically getting hammerings."
Speaking after a Munster final in which his team competed but never really looked like winning, McGrath said there was some "emotional tiredness" at play.
"For ten fellas, it was their first ever Munster final," he explains now, expanding his point.
"You would be happy enough with how they played. Going toe-to-toe with what are perceived to be one of the two best teams in the country.
"With 67 minutes gone, it was 0-18 to 0-15. So there was a bit of solace in that we weren't over-run by the whole thing.
RECORD
"I suppose you're just trying to analyse everything in the aftermath.
"But there was a simple answer in that Tipperary were probably just the better (team). That was the reason they won."
McGrath has also had to deal with a pile of his most intrinsic players play in, and lose, a Munster under-21 semi-final against Clare, a match they were tipped to win, despite the Banner's unbeaten record at the grade stretching back four years.
"They didn't come in with us until Saturday," McGrath recalls.
"And if we lose on Sunday, it wont be because of fatigue or tiredness. It will just be because Dublin are better on the day."
Predicting Dubin's form now is a basic impossibility.
At half-time, they looked to have played their worst 35 minutes of hurling since the bad old days.
Some players looked finished.
It's not pushing the extremities of possibility to suggest that so did their manager.
Now? Who knows.
"I think they'll have a very confident mentality based on Limerick having an eight-point run on them and then pegging it back," says McGrath.
"I think they have serious momentum now based on their 10 minutes just before half-time and their 35 minute second half. I think they have serious momentum.
"Just watching an interview with Dotsie (O'Callaghan) afterwards, speaking about at half-time making sure that last week wouldn't be their last training sessions together of the year, I think there is a lot of unity of purpose there and I think they have great confidence."
And while there's no prizes for originality for a manager who testifies openly to the strength of their looming opposition, so too is there an awareness from McGrath that, for all his team's advances this year and all Dublin's travails, they are coming up against a size with a large reservoir of experience.
"They're probably two or three years ahead of us in terms of their trajectory in that they've won a Leinster Championship, they've won a National League and they've competed in two All-Ireland semi-finals," points out McGrath.
"If they win Sunday, it will be their third All-Ireland semi-final. We haven't been in one in quite a while."
GRAPH
Referencing Dublin's last flirt with September hurling, he says: "If Ryan O'Dwyer hadn't been sent off two years ago against Cork, I think they'd have won and we'd be talking about playing recent All-Ireland finalists or even All-Ireland champions.
"We haven't been in a semi-final in four or five years. So it's a different graph if you like. I think Dublin are coming in very confident," he concludes.
"It's a 50/50 game."