David De Gea may renew contract at United after Real Madrid disappointment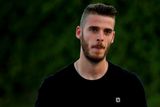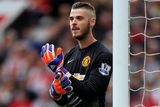 David De Gea is being advised to renew his contract at Manchester United by super agent Jorge Mendes, according to reports in Spain.
Manchester United have offered to make De Gea on of the club's highest paid players with a €10m-a-year net deal, according to influential Spanish journalist Josep Pedrerol.
Yesterday, De Gea was warned by Spain boss Vicente del Bosque that it will be difficult for him to select David de Gea in his European Championship squad if the goalkeeper remains on the sidelines at Manchester United.
De Gea is said to be considering the offer, a higher version of which has been on the table by United for at least a year.
Meanwhile,  de Gea has been backed to remain professional as he continues his Manchester United career.
The Spain goalkeeper's expected move to Real Madrid fell through as a paperwork hitch prevented the deal being completed before Spain's Monday night transfer deadline.
Inclusion in United's Champions League squad indicates De Gea remains in the plans of manager Louis van Gaal, who has yet to pick him this season while the transfer saga played out.
And team-mate Juan Mata sees no change in his approach as the pair prepare for their country's Euro 2016 qualifier against Slovakia.
"He seems the same as ever to me, calm and relaxed," said Mata.
"It's been a manic few days for him, he's my friend and I'm there for him for whatever he needs. Right now he's focused on the two upcoming games for the national team and he's going to be as professional as he has been throughout his career.
"His hunger and professionalism are intact. We all know what a great goalkeeper he is. The fans will get behind him and so will the team."
National team coach Vicente Del Bosque called for De Gea to "be professional and move on from this episode", warning that he needs to be playing regularly at club level to remain in the international picture.
"I hope that he starts playing again and is happy," he said. "If he doesn't play, it will be very difficult for him to come to the Euros."
Assuming De Gea plays in the Champions League group stage, he would be cup-tied should Madrid revive their interest in the winter window.
He is joined in the squad by Anthony Martial, whose deadline-day move from Monaco for an initial £36million made him the most expensive teenager in history.
He was given the number nine shirt but will not be assured of a central striking role as he competes with club captain Wayne Rooney.
Martial said at a France press conference: "I prefer to play in the centre but (Van Gaal) told me I could play in a number of positions. It is the coach who decides but whatever position I play, I will do the best I can."
Martial's compatriot Morgan Schneiderlin revealed Rooney had to ask him for information on the unfamiliar new signing while Arsenal manager Arsene Wenger pointed to a price tag which could rise to a reported £58m as an indicator of a lack of value in the market.
Wenger told beIn Sports: "What happened with Monaco, who sold Martial to Manchester United for 80 million euros - Martial scored 11 goals in the French championship - that sums it up well."
The 19-year-old was calm on both fronts and said: "It's normal Rooney doesn't know me. Its my first time with France and I didn't play much in Ligue 1.
"I don't know if I'm worth 80million euros but I don't worry about the sums.
"I'm going there for the football side of things, the price is between the two clubs and I don't see myself under any pressure."
READ MORE: