Daughter leaves hospital to attend funeral of mother killed by father
Tragic Valerie Greaney was 'utterly devoted to her family', funeral hears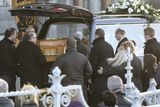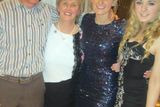 A woman who died alongside her husband in a tragic murder-suicide was described as "loving life" and being "utterly devoted to her family."
Valerie Greaney (49) was stabbed to death last Sunday by her husband, Michael (53), who suffered from severe mental health problems.
Mr Greaney, a Naval Service veteran who had been treated at the Central Mental Hospital (CMH), also stabbed his eldest daughter, Michelle.
He then ran to an upstairs bedroom and took his own life.
His daughter Michelle (21) miraculously survived the stab wound to the chest which came within millimeters of her heart.
The family's youngest daughter, Sarah (16), avoided injury after her mother, worried at Mr Greaney's agitated state, told her to leave the family home and go to a neighbour's house at O'Neill Place.
Cobh curate Fr Patrick O'Donoghue paid tribute to the devoted mother of two at her Requiem Mass in Cobh, Co Cork today.
Her two daughters attended today's service - Sarah following her mother's coffin through the main entrance, while Michelle entered the church through a side-door, flanked by two medics.
St Colman's Cathedral was packed as the community demonstrated its solidarity with the grief-stricken family.
"Valerie had many interests in life and loved to celebrate.  She was heavily involved in rowing and in many other groups, she loved going to bingo or the movies and had travelled much in her younger days," Fr O'Donoghue said.
"She had many changing hairstyles to reflect her outgoing character; she would often be one of the last to leave a party and had built up a wide circle of friends, of all ages.  Her love of dancing and singing carried over into her daily life, and she could be found dancing at home even as she was making the dinner - even if there was a dispute as to whether she needed dancing lessons or not.
"Valerie worked hard, especially for her family, without complaint.  She was a very caring person, and she cared for her mother and father at home for a long time.  She was always dedicated to her family life, and they did everything together.  Board games, movies and holidays were all special shared times, and Valerie dedicated herself completely to every moment with her family."
"Valerie was known in her extended family as someone who was always quick to forgive.  She would often just walk away from an argument, moving on quickly from the argued point. You would have to go far to find anyone who would have a bad word to say about her and she herself would have very few bad words to say about anyone.  Her strength of character still stands now as a powerful inspiration to her family. "
"However, we are at a stage now where we are left with many questions where there are no answers, and many where we will never have an answer and to explore them would not give us much in return. Quick answers which seem to fit will not help here," he added.
"All we can do is to trust our future lives together to God in prayer.  To start this I will now pray for all of us here present, so as to give us a handle to lift up all the unanswerable questions of the lives of all here present so that we can hand them over to God, to leave them with Him so that He can take the loose treads of the tapestry of our shared lives, and weave them into His higher purpose and plan for our world which always remains in need of His help."
Michael Greaney will be buried after a private funeral ceremony tomorrow.
However, he will be interred beside his devoted wife who had insisted he return home to continue his recovery from mentally illness.
Mr Greaney attacked a woman in May 2013 after becoming distraught over mounting business debts.
He was treated in CMH for a period after being found not guilty by reason of insanity on assault and false imprisonment charges last February.
He was only allowed return to the family home in late October after Cork Circuit Criminal Court was told by a consultant psychiatrist that the father of two posed no threat.
Valerie Greaney had supported her husband through the court process and in his application to return to the family's O'Neill Place home.
The Bishop of Cloyne, Dr William Crean, who lives just 1.5km from O'Neill Place, said the entire community was grief-stricken.
"I was deeply shocked to hear of the deaths of Michael and Valerie Greaney and the serious injuries suffered by their daughter, Michelle," he said.
"I ask the faithful of the diocese to pray for all of those affected by these sad events....(and) help to guide us through this great darkness which has fallen on the community of Cobh."
Sunday's tragedy came 23 years after Cobh was left reeling by a similar murder-suicide.
Niall and Veronica O'Grady were discovered fatally stabbed in their Rushbrooke home in July 1991 after a neighbour received a call from the father asking that their children be looked after.