Darren Clarke to captain European Ryder Cup team in 2016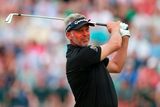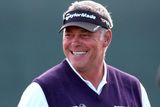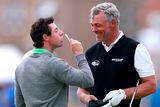 DARREN CLARKE has been accorded one of the greatest honours in professional golf. The Tyrone native, 46, will lead the European Ryder Cup team into action against the USA at Hazeltine in September 2016.
Clarke succeeds Ireland's first Ryder Cup captain Paul McGinley, who was both inspirational and innovative in the role as he led Europe to their eighth victory in 10 at Gleneagles last September.
Dubliner McGinley was a member of the five-man Selection Committee, which gathered at the European Tour HQ in Wentworth, Surrey, and "unanimously" declared Clarke the winner of a three-horse race with Spain's Miguel Angel Jimenez and Dane Thomas Bjorn.
The Committee, which also included 2010 captain Colin Montgomerie, his successor Jose Maria Olazabal, plus Ryder Cup player David Howell and Tour CEO George O'Grady, convened at 10 o'clock in the Masters Room at Wentworth and took nearly two hours to reach a verdict.
Read More:
Although Clarke's long-standing friendship with McGinley was placed under severe stress as the enigmatic Ulsterman drifted in and out of the highly-fraught race for the 2014 captaincy, both men are believed to have sorted out any differences when they met in China last November.
As captain, McGinley gave first priority to the interests and views of his players and the support voiced for Clarke by prominent figures in the European locker room, including World No 1 Rory McIlroy, Lee Westwood and Graeme McDowell, counted heavily the new captain's favour when it came to a vote.
Clarke's Ryder Cup credentials are impeccable. From his European debut at Valderrama in 1997, he played five successive matches, culminating in a courageous and hugely-emotional appearance at the K Club in 2006. That appearance came just six weeks after the death of his first wife Heather.
For some, his contribution to the European cause that September in the shadow of such overwhelming tragedy will forever rival Clarke's stunning win at the 2011 Open Championship  at Royal St George's as the crowning moment of his career.
Since Sandwich, Clarke has not managed to add to his tally of 22 professional tournament victories (including that one Major, two World Golf Championships and 14 wins in all on the European Tour).
Since marrying Alison Campbell in April 2012, Clarke and his two sons, Tyrone and Conor, have settled happily in Portrush, where, over the past 15 months, the Ulsterman has shed 42 pounds weight in an intensive fitness regime that is likely to extend his playing career.
Though he didn't feature in McGinley's five-man backroom team at Gleneagles, Clarke was vice-captain to Montgomerie at Celtic Manor and Olazabal in Medinah.
His popularity in the USA also is considered key to his appointment for this mission in Minnesota.
Clarke seems certain to go head-to-head at Hazeltine with one of his closest friends on the US Tour, Davis Love III, skipper of the American team which came out on the wrong side of the Miracle At Medinah in 2012.