Daniel Sturridge: Gerrard will be Liverpool boss one day
Red icon will return to Anfield to take over in the hotseat: Sturridge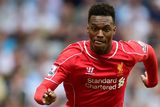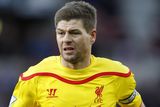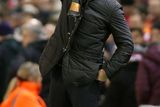 DANIEL STURRIDGE is convinced Steven Gerrard will one day become Liverpool manager.
Sturridge looks almost certain to make his return from a five-month injury lay-off tomorrow, when Liverpool head to West Ham, and a lot has changed since he last pulled on that famous red shirt.
Liverpool have dropped to eighth in the Barclays Premier League, Brendan Rodgers has changed the team's formation and the club's long-serving captain has announced he is to leave at the end of the season.
Gerrard played a big role in helping Sturridge go from under-performing wannabe to deadly Premier League striker and the 25-year-old admits he is "devastated" that the Liverpool captain is off to the Los Angeles Galaxy at the end of the season.
PRAYING
But Sturridge is praying that will not be the last he sees of Gerrard. In fact, the England forward seems pretty sure he will be playing for his hero in the future.
"I'm devastated he's leaving," said Sturridge.
"I think he'll be at the club in some capacity very soon and I'm sure he'll manage the club one day.
"Words can't describe what he's done for Liverpool as well as his country.
"He's still a role model of mine. I look up to him, I think everyone in the squad does. He'll be sorely missed - he's somebody who's given me a lot of experience and helped me to improve as a person and a footballer."
During Sturridge's absence, the Reds have slipped five points behind Manchester United in the hunt for the final Champions League qualification spot.
Rodgers remains convinced Liverpool would be in the top four now had Sturridge not been sidelined for the majority of the season.
"There's no doubt (about that)," the Liverpool boss said.
But Rodgers is also aware Sturridge will not be able to single-handedly rescue Liverpool's season.
''We just have to be careful with him,'' Rodgers added. ''He has been out for a long time.
''We can't put him under so much pressure that he is going to be the saving grace as soon as he steps foot on the pitch.''
Rodgers will wait later today before he decides whether to throw the striker into his starting XI for the game at Upton Park.
It is clear that Sturridge is desperate to play, though.
"I've been champing at the bit," Sturridge added.
"I'm ready now - it's been a long time coming, but I am happy with how everything has gone and I am looking forward to it. I won't hold back from anything."
It was during a sprint on one of the many pitches at St George's Park that Sturridge pulled up after feeling a twinge in his thigh.
The striker immediately withdrew from England's squad to face Switzerland and was ruled out for several weeks.
On the eve of his comeback, Sturridge suffered a calf problem and then, much to his dismay, he sustained another thigh injury just as he was about to come back.
The former Chelsea and Manchester City striker spent the Christmas period in Los Angeles to aid his recovery and found it hard watching his team slip further and further down the league.
"I'm not a very good watcher," he said.
"I don't like watching too much but I had to.
"I watched every single match when I was in the States - I was getting up early doors in the morning, so sometimes it'd be 4am depending on where I was and what time the game was.
IMPORTANT
"I'd get up early and it was important for me to see how we played, the formations and the style of the new players.
"But it was hugely important (to go out there) and I am thankful to the guys over there who helped me out."
Raheem Sterling also recently benefited from a spell in America as he had been suffering from fatigue.
The move seems to have paid off. The England winger showed signs of his old self in the 1-1 draw at Chelsea last week.
Rodgers is convinced Sterling will soon sign a new contract at the club.
'I'm sure it will be sorted and organised very soon,'' Rodgers said.
''He sees his long-term future here. I spoke with him.
"He is very happy with his progress and how he is developing," added the Anfield boss.
Words can't describe what he's done for Liverpool as well as his country. He's still a role model of mine.
- Daniel Sturridge