Cooper still in search of 'the sweet spot'
Dub star seeks balance but obsession 'keeps me alive'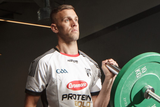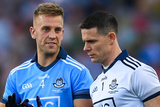 Spend half-an-hour in the company of Jonny Cooper and you might start to wonder if there's just a little bit of Bill Shankly in him.
Most people have read some version of that famous Shankly quote: "Some people believe football is a matter of life and death. I assure you, it is much more serious than that."
Cooper doesn't say anything so outrageously dramatic. But he doesn't try and hide the obsessive side of his nature either.
"I certainly don't think there's anything wrong with being obsessive," he says. "And not accepting anything other than being at the top. I think that's the challenge of sport as well, but I love it. It keeps me alive."
Last September, the Dublin defender spent just over half-an-hour in the company of David Clifford. It didn't go well.
Cooper wasn't the first and he certainly won't be the last elite defender to suffer in the Kerry prodigy's slipstream. But last year's drawn All-Ireland final - the penalty concession, the three fouls, the yellow card and then the red - was a traumatic experience for a player so often at the vanguard of Dublin's defensive resistance.
Atonement
The result came as a blessed relief. It offered a chance for atonement. In the days that followed the original stalemate, he admits that "you really are" tormenting yourself.
"It wouldn't necessarily be the case for other people but, yeah, you are going back and that's what I learned over the years - you go back to the eye of the storm, right into the centre and find the root cause. You get those honest opinions.
"With the tight turnaround time, obviously it made it very unique ... but now, looking back, a very powerful experience, a very valuable experience to go back inside yourself and figure it out."
Was there a temptation, at the time, to blame referee David Gough?
"No, probably not," he replies. "I think you have to look at the facts and obviously I was in the situations. I've always gotten what I deserve and I do firmly believe that was the case, or is the case in that example.
"Again, if you backtrack, you just follow your steps. Where did you come from? Did you do enough around contact? Were you sharp enough in your mind? Did you do all of these different things?"
And the answer, he concluded, was "no - because I was caught out in terms of the position I put myself in. I think it's an easy temptation but no, I wouldn't be pointing any fingers and the mirror is certainly reflecting on me."
Redemption came in the replay. Cooper held his place, Dublin held their nerve and their glorious obsession - five-in-a-row - became reality.
But now a new season has dawned under a new manager, albeit a familiar Na Fianna face in Dessie Farrell. And while Cooper (after an extended January holiday) hasn't featured in the first three league rounds, he's in full training now and putting his hand up for inclusion in the second half of their NFL campaign, starting at home to Donegal on Saturday week.
This six-time All-Ireland winner, recently turned 30, openly accepts that he struggled to recapture his 2018 All Star form after a three-month injury lay-off last season.
Therein lies a challenge he is ready to embrace.
"It probably wasn't up to my standards," he says, while quick to dismiss "those different excuses that I could put on the table.
Reflected
"It was poor. I didn't do justice in lots of different factors, and ultimately I nearly cost the team a great lot."
He has talked to people, reflected on the lessons of 2019, and realised that he has "an awful lot to learn and grow in different ways while trying to consolidate the good stuff ... obviously there's a whole new slate now, so it's starting from ground zero.
"So, I'd be hoping to be involved a little bit more this year, have a bit of a better impact, for myself first and foremost, obviously then for the team."
There is one obvious mitigating factor for last year's travails: an injury that sidelined him for the entire Leinster SFC.
"Something on the sole of the foot, innocuous enough ... but hard to heal," he explains. I missed ultimately three months last year, in more or less the middle of the season, so I can't get away from that.
"Time was against me. Did I do too much? Not necessarily but at the same time, if someone has a 12-week block under their belt and I don't, there is only one way to get it back and that's to put your head down and work and drive on. So I didn't really have any other alternative."
As for the lessons to absorb from 2019, he highlights the search for "balance" and "focus".
"I am very driven and ambitious in a couple of different ways - sporting is just one of those ways. Academically, professionally, I am also very ambitious to grow," he reveals, quickly saluting his "great employer in DCU" for the support and space they have given him.
"Obsessive is probably my starting point and now I am trying to figure out a little bit more of a smart way how to focus and extract the right amount from me at the right time - by talking to the right people, asking the right questions and so on."
Last year's injury trouble, he adds, "probably took my focus away from what I was good at. And if you are not focused internally, then that obviously reverberates around your teammates."
Cooper agrees that he has always been an obsessive character.
"I think it's worked for me in lots of ways, and it's worked against me in lots of ways," he reckons.
"Has it topped the scales a couple of times? Yeah, it definitely has. Have I not put and invested time into relationships? Yep, that's definitely been the case.
"Have I done too much on football and has that gone against me? Yeah.
"So, with the experience I've gone through with lots of failure and some successes, it's trying to get that middle ... that sweet spot."