'Comic genius' of Gene Wilder praised as he dies at age 83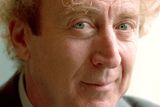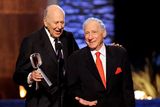 Gene Wilder, the frizzy-haired actor who brought his deft comedic touch to such unforgettable roles as the neurotic accountant in The Producers and the deranged doctor of Young Frankenstein, has died. He was 83.
Wilder's nephew said yesterday that the actor and writer died on Sunday at his home in Stamford, Connecticut, from complications from Alzheimer's disease.
Smile
Jordan Walker-Pearlman said in a statement that Wilder was diagnosed with the disease three years ago, but kept the condition private so as not to disappoint fans.
"He simply couldn't bear the idea of one less smile in the world," Walker-Pearlman said.
Wilder started his acting career on the stage, but millions knew him from his work in the movies, especially his collaborations with Mel Brooks on The Producers, Blazing Saddles and Young Frankenstein.
The last film - with Wilder playing a California-born descendant of the mad scientist - was co-written by Brooks and Wilder.
"One of the truly great talents of our time," Mel Brooks tweeted. "He blessed every film we did with his magic and he blessed me with his friendship."
Dara O Briain tweeted: "Sad news, but such a life well lived. For me, Young Frankenstein just pips Wonka - but so many wonderful performances."
Stephen Fry called Wilder a "comic genius", and added: "Thank you for all those happy, happy hours".
With his unkempt hair and big, buggy eyes, Wilder was a master at playing panicked characters caught up in schemes that only a madman such as Brooks could devise, whether reviving a monster in Young Frankenstein or satirising Broadway in The Producers. Brooks called him "God's perfect prey, the victim in all of us".
But he also knew how to keep it cool as the boozy gunslinger in Blazing Saddles, or the charming candy man in children's favourite Willy Wonka and the Chocolate Factory.
Crazy
He was close friends with Richard Pryor and their contrasting personas - Wilder uptight, Pryor loose - were ideal for comedy.
They co-starred in four films: Silver Streak, Stir Crazy, See No Evil, Hear No Evil and Another You.
In 1968, Wilder received an Oscar nomination for his work in Brooks' The Producers.
He played the introverted Leo Bloom, an accountant who discovers the liberating joys of greed and corruption as he and Max Bialystock (Zero Mostel) conceive a Broadway flop titled Springtime For Hitler and plan to flee with the money raised for the show's production.