Coast Guard rescues Santa and delivers him to Temple St kids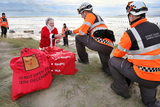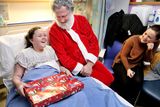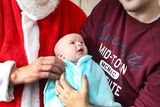 Santa was rescued by the Irish Coast Guard after he accidentally fell out of his sleigh at Dollymount Strand.
An unusual Mayday distress call was responded to by the Coast Guard.
However, Santa was uninjured in the incident and the team helped him back on his feet.
The man in red insisted on paying a visit to brighten up the wards of Temple Street Children's Hospital.
For little Kai Kelly-Knowles (7 weeks) from Rush, Co Dublin, it was his very first visit from Santa.
Dazzled
"Kai has been looking around at him passing by and he's well aware," his mother Nadine said.
"I think he's dazzled by the red. We're not sure if Kai will be home for Christmas, we are just waiting to hear back what is wrong with him."
It was a second day of excitement for children who were lucky enough to see Kodaline when they visited Temple Street on Monday.
They included Conor van Bemmelen (14) from Belgium, who was recently diagnosed with diabetes.
"We are not used to this in hospitals in Belgium, so we really appreciate this, along with the visit from the boy band [Kodaline] on Monday," his mother Blanche said.
Meeting Santa and getting a special present lifted the spirits of Abbie Spain (10), her mother Kelly said.
"I think the visit from Santa really gave her a boost. Once she heard he was coming she sat up and everything," Kelly said.
"She was taken out of isolation on Monday so we are hoping she can be home for Christmas."
It is the seventh year that the Irish Coast Guard has helped Santa deliver the parcels.
"It's a fantastic opportunity for us to go in and give a bit back to the community as well," said Fergus Cooney of the Coast Guard. "I think it's something that works very well from our side as well as the kids - they get to see Santa and they get to see the Coast Guard as well.
Presents
"Canada Life Reinsurance support and finance all of the presents so they've been working away for the last month getting all the presents sourced around different shops and getting them packaged."
Mr Cooney advised people to follow Santa's quick actions in contacting the Coast Guard if they ever see somebody in trouble in water, at cliffs or on the beach over the holiday season.